&nbsp Sheridan Tucker sat on his stool while Cassandra addressed her friends. "He wants you to see him as a sissy," she said, tossing her black mane off her shoulders onto the back of the settee. "It makes him excited." There was silence for long moments as he hung his head in front of all four women, their eyes devouring him in his dress of lilac satin, flaring all round his ruffled petticoats. The silence went on so long, he dared to look up, and made unfortunate eye contact with Antonia Grestle. Her eyes widened as she spoke to him, her voice sweet and patronising.

"But you look so silly, honey. Cassie has made you a little girl."

He dropped his eyes again, feeling the intense gaze of the women. "Well," said his wife, "you'd better confess your real feelings to Antonia."

He looked up again at the visitor in her lime green boho top and stockinged legs, one crossed over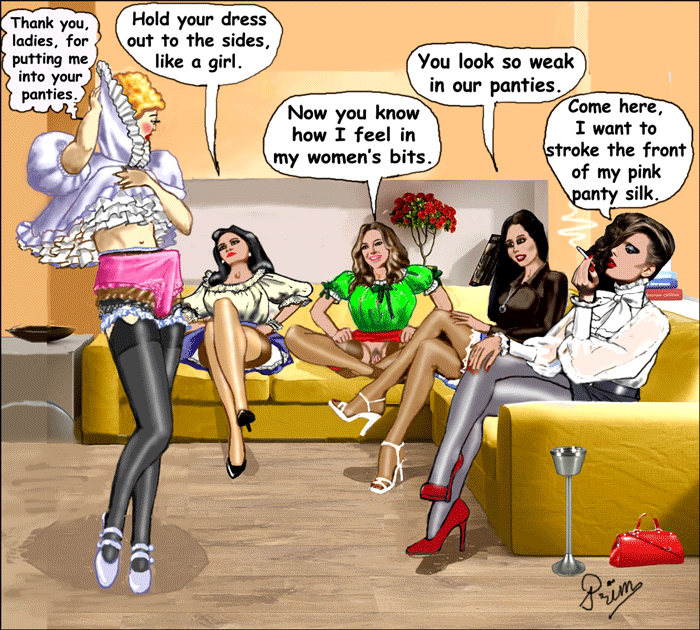 the other on her seat showing him the gusset of her black panties. He had to speak loud and clear to all of them if Cassandra was telling him to confess. "I feel excited that you can see how s-sissy I am." The word came out louder with him stuttering on it.

"What do you mean, 'sissy'?" asked Meredith, sitting opposite him. She was cool and beautiful, with long raven hair. He wasn't expecting this question.

"C-Cassandra says I'm - " The girl angled her head to the side, urging him to tell her all about it.

"Well? Go on!" said his wife.

"I-I'm not a man, and I'm not a woman. But," and he looked at the floor, forced to give away his dreadful secrets - "I'm more like a little girl. I only deserve to wear baby girl petties and panties."

Silence again as his chin sank onto his wide dress collar with its frill all round his shoulders.

"Look at me," said Meredith. He did as he was told. Her dark red lips widened into a gorgeous smile. "I think you look very sweet."

"So do I," said Antonia, sitting forward, "and I want to see you in panties. Do you want to wear mine, honey?" He looked at her and a wave of heat crossed his scalp as she sat on the edge of the settee, almost bouncing with energy, and released her panties from beneath her skirt to slide them down her legs and straight off her feet.

"And mine," said Meredith, lifting her blue mini. "Here look, they're soft and silky," and she added with a chuckle, "and still warm."

"Come here," said Cassandra. "I'll put you in mine as well." She took them off without lifting her ass and dropped them on the settee beside her. Sheridan stood for his wife to unhook his girlish panties from his growing cock and draw them down his legs. Again the eyes of all three visitors were on him, this time devouring the naked humiliation of his stiffening cock. She presented her panties to his lilac patent shoes - full cut, in white nylon edged round the legs with white lace - she had dressed him in them before - and he stepped in so that she could draw them up. Her hand pushed his pantied ass towards Antonia, who held her black lace panties ready for him.

"Here we are, Sheridan," and her hands were near the floor. "Step in dear, there's a good boy," and she drew them up his nylon legs. "Mmm, two pairs of ladies' panties, darling, so that you can feel nice and feminine around here." Meredith had her panties low down too, and his hands bunched his dress in front of himself as they slid over his shoes. They were in coffee silk, with a dainty frill round each leg. She drew them higher, a smile on her lips, and arranged the 3 pairs over each other with tucks and pulls until she was satisfied. Sheridan squirmed, her eyes looking up into his.

This left Cosima Massingham, who sat leaning back in a blouse of white organza, her legs crossed in long grey stockings. She beckoned with a gleaming red fingernail, and when he stood obediently in front of her, she pulled up her skirt and revealed her pink silk panties. "I want my panties to encase your sissyish parts," she said, and gyrated her ass and legs enough to slide them from their place until she had them in her hands.

Sheridan stood with two armfuls of petticoats and lifted one two-bar shoes after the other for Cosima to draw her pink panties drawn up his thighs until she could slip them over his upright point and arrange them all round his ass. Her lips were pursed as if she were his schoolmistress after delivering a sharp telling off. Another silence from the women around him, amused but not showing it. "Stand in the middle," said Cassandra, "and hold out your dress to the sides. Now lift your dress collar so that we can see you in it."

"Oh yes," said Meredith as they all sat back to observe, "a big dress collar makes you look just like a little girl. Now hold your dress up at the front and show us your panties."

Sheridan's head drooped lower and he fought the blubbers that wanted to come as the women sat and drank him in. "Come here," said Cosima after maybe a minute. "I want to stroke my pink panty silk." The wretched husband knew he looked like a set of panties walking forward on two stockinged legs. He stood to have his erection stroked by Cosima on one side and Meredith on the other. Ohhh, he couldn't handle it while they were doing this. They looked at his panty point, then his eyes in turn, smoothing their open hands up the stiffened front of their panties. His excitement rose and rose, deliciously, and he jerked, and jerked again, losing control, until his cream fired in long pangs of bliss into their panties.

"That's right, dear," said Cosima, "you are overpowered by the sweet little panties we've got you in."

"You are so weak," added Meredith, smiling at him.

"And helpless," said Antonia, fondling herself under her skirt.

"And sexless too, added Cassandra - and they all laughed at the drooping panty boy as he held up his dress for them.


***
&nbsp