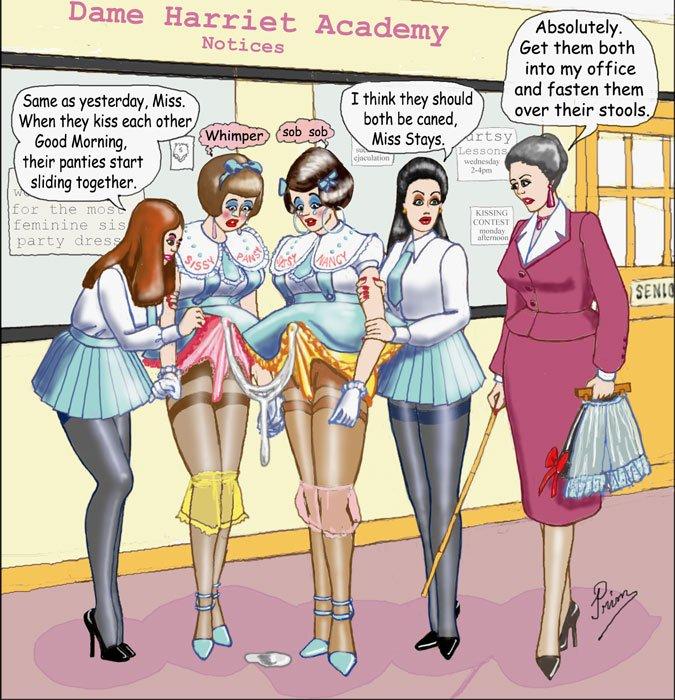 "I hope you both appreciate what an enormous privilege it is for you to be interviewed for a post in the Dame Harriet Academy, with the possibility of your being allowed to join our all female establishment?" The lovely Candida Wells, eighten years old, lifted one side of her long blond hair with a hand and sleeve and threw it behind the shoulder of her school blouse. "Employing males would turn our feminine traditions on their head."
"Only the most suitable applicants, in mind and body, can be considered," said Allegra Watts. "We would have to be convinced that you were just what we are looking for."
"For example," said Penelope James, spreading her scarlet fingernails and studying them before looking up at the two nervous candidates, "would you be willing to submit" - and somehow it sounded as though the word sprang from lungs of iron determination - "to the needs of our staff and pupils in every respect?"
"Oh definitely." "Most certainly," affirmed the youthful looking newly qualified male teachers.
"And willing to commit yourselves to the Academy by signing these legal agreements detailing your contracts?" said Philomena Staves, her face wrinkled with a mixture of doubt and contempt in anything that involved males, no matter how young, innocent and naive they might look.
"Yes we are willing, aren't we?"
"Oh yes, determined to do our best in any way asked of us."
"Then you can sign here, Mister Soames," declared Penelope, spreading the document in all its layers on Miss Stays' desk and handing him a fateful pen; "and you can sign here, Mister Fabingham," said Philomena. The signatures were repeated three, five, eleven times in all by both candidates, and the documents were recovered by the girls and lodged in leather cases beside their chairs, so that the young men were at a loss as to where this left them now. They had not expected to be interviewed by a panel of senior girls, and they turned for enlightenment to the Principal, who had spent the entire proceedings sitting in her swivel chair in the middle of the row of girls, her elbows on the arms and her hands in an attitude of prayer as if kissing her fingertips. She left the two of them wondering for quite a while, then lowered her hands into a finger grip across the waist of her navy blue costume.
"So there we are, gentlemen. Welcome to the Dame Harriet Academy. I must say I am delighted to have you both with us."
Her smile lifted a weight from the shoulders of both of them.
"I didn't think I would be able to persuade your girls to accept me," said Malcolm Soames, with a long sigh of relief.
"And I was beginning to think I wasn't the sort of chap you wanted at all," said Simon Fabingham.
"Oh you are
just
right, I can assure you," said Miss Stays with a chuckle. She lifted the two smart phones out of the tray in front of her - the candidates had surrendered them at the start since they would not be needing them during their interview - and passed one of them to Candida and the other to Allegra. "There, girls," she said: "see what you can find."
The atmosphere in the Principal's study changed in a flash, as if layering the two men with a coating of frost. Malcolm Soames hid it as best he could, of course, smiling as if agreeing with this strange developement, but his heart was hammering beneath his tie. What if the girl looked into his recent...private downloads!
Simon Fabingham, on the other hand, couldn't manage to look at ease. His lips were trembling already, as Miss Stays noticed.
"What's the matter, Mister Fabingham. Will Allegra find something... distasteful she will have to show to me?" He turned ashen white in front of her. The girl would almost certainly come across his most visited files... his folders of little-girl dresses, and... Oh no! his emails to PinkiePatsy and Jemima Frillikins!
"I think you had better see this, Miss Stays." Both men jumped in their seats as if shot in the chest. It was Candida Wells. Miss Stays took the phone, glared into Malcolm Soames' eyes and looked down at his phone. She flicked from screen to screen then looked coldly up at him.
"
Prissys Sissies
, Mister Soames? So you are one of those men who would like to wear frilly petticoats instead of a vest and shirt."
At her elbow, Allegra offered her the other smart phone. A moment's browsing later and the Principal had all she wanted.
"
Prims Petticoat Pansies
, Mister Fabingham? So you would like to be a little girl too? Well I think we can oblige your wishes, gentlemen, while at the same time having you working hard in the classroom for the benefit of our girls."
The objections the two new appointees raised amounted to pathetic claims of mistaken files. This stuff must have been put onto their phones by someone else, they pleaded.
"Yes, my dear sissy wimps," said the Principal, "but in the meantime I can't have you wearing those male clothes in my all female academy. You have just signed a contract which makes that clear. So while we wait for your new little schoolgirl uniforms to be run up, I shall have to dress you in some of my own things. Girls, strip the two of them to the skin."
Malcolm Soames was soon dressed in pantyhose and panties, a long line bra with moulded cups, a white satin blouse with waterfall ruffles down his bust and a pair of soft crimplene trousers in a pale green tapering to narrow ankles. He was made to stand up in a pair of high heeled sandals that strapped round his ankles to prevent him stepping out of them.
Simon Fabingham was not so lucky. Instead of a blouse and pants he was put into a long, lace hemmed slip in silky nylon, over which he wore a tight dress in pale pink silk with a pencil skirt to below his knees.
"His prick is sticking out in it, Miss Stays," declared Penelope, pointing clumsily at the offending bump in the silk and her fondling of it brought a whimper of humiliation from their new teacher.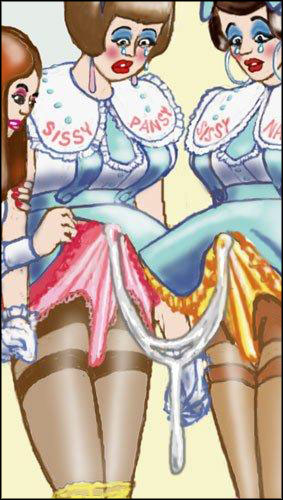 "Girls, two of you take each of them in tow to all of your lessons and ask your teacher if he can be fastened into a chair at the front of the class for everyone to have a good laugh at him. Bring them back to me at lunchtime, and we'll see if their schoolgirl uniforms are ready for them to become part of Dame Harriet Academy."
The senior girls loved it, and so did every girl who saw them throughout the morning. By the time they delivered their sissies back to Miss Stays at midday, both teachers were crying buckets of tears and begging to be allowed to go home.
"Why would I let two of my teaching staff go home half way through the working day?" cried the Principal, opening her cupboard and taking out two hangers carrying two little uniforms which she hung on the front of the door. "You've got work to do, you stupid worms - helping educate my girls in
male sexual perversion
. And if you fall short of your commitments, agreed to and signed by you in many forms, you will be punished until you can't sit in your pretty silk panties."
And so it was that Sissy Nancy and Sissy Pansy joined the staff of the Academy as school sissy teachers, and were shepherded around, day in, day out, by their angel guardians, or nursing prefects, who washed and changed the sissies several times. Every senior girl in the school had a turn, some proving more insistent than others that the two sissies engage in
sissy cuddling time
with lots of hugs and kisses. The day's prefect nurses, of course, were allowed to assist at their formal cuddling time in Miss Stays' office at the end of each day. That was the time for serious panty kissing, and of course the confirmed sissies were obliged to lie together on the rubber medical table and put into practice what they had learned from the disgraceful websites of Messres Prissy and Prim.
Strangely enough the new teachers returned willingly to school every day, in uniform and ten minutes early.
***