Thweet Thandwa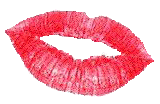 "Sandra, where are you, pet?"
"In de Wendy Houthe Mummy. Me am changing the pantieth on all my dollieth."
"That's lovely, darling. Now give me your hand, and come and meet a nice lady."
Sandra Lightfellow held his mother's hand and followed her in tiny skips out of the nursery and down the stairs, his hair bouncing prettily on the lovely large silk collar of his afternoon dress. Waiting to meet him in the sitting room was a very tall lady wearing spectacles and a long, blue and white polka-dot dress.
"This is Miss Fullslip, darling. She's a special teacher for special little girls and sh's going to come here every afternoon to teach you some lovely girly games and lessons." Sandra was a very shy sissyboy and his wide, silk, panty-display dress slipped further and further behind his mother's skirt in front of the stranger. "Say hello to your new home teacher, petal."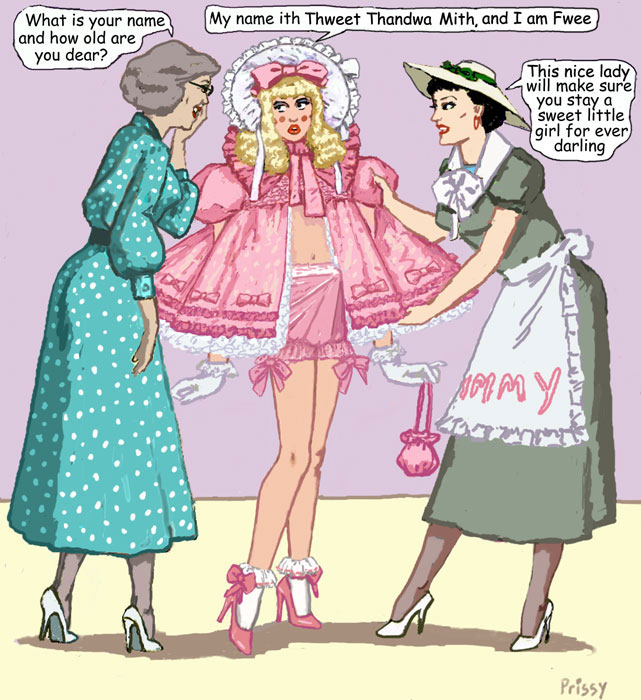 Sandra sucked his thumb and looked round his mother at the lady, then buried his face in his mother's sleeve. The new teacher tried coaxing.
"What is your name, dear, and how old are you?"
She was presented with the back of Susan's bonnet and the buttons right down the back of her frock. Miss Fullslip had lots of experience with very shy sissy little girls and knew just what to do.
"I'm going to sit down here on the settee and spread out my lovely silk dress," she said, "until you can tell me your name."
There was a hissing and sizzling of silk, followed by: "What a lo-o-ong dress I'm wearing today aren't I precious?"
The back of the bonnet didn't move, except for bobbing continually as the twenty three year old sucked on a wet thumb.
"Now I'm going to undo the buttons on the front of my dress," said the visitor, "up to the waist... and open my dress wide." She paused, then began. "One button... two buttons..." When she reached "five buttons", The desire to know what lovely feminine delights lay under the lady's dress was too strong and the bonnet turned slowly round to see.
"Six buttons... seven buttons... and eight lovely dress buttons." Miss Fullslip spread the two bottom corners of her hem wide on the settee and arranged her dress in rustling prettiness. Between the two sides was a wide silk slip in mint green rayon, edged along the hem with three inches of lace. She reached for the bottom, drew up the lace and folded it at her waist, revealing a second petticoat of white silk polyester. Sandra's eyes were like saucers and his display dress showed his pink silk panties stretching out at the front in a helpless display of sissy excitement.
A pin could have been heard dropping on the thick, soft carpet. She took the lace at the bottom and lifted her white petticoat onto her green one, revealing shiny grey stockings, white suspenders and long mint green french knickers with deep lacy edging at the legs.
Sandra gave a little gasp, left his mother's skirt and fell to his knees in front of the lady's stockings and shoes. "Me do love your pwetty pantieth Mith", he said gazing at them in rapture. "Me am changing the pantieth for all my dollieth," he added proudly. "Pweathe Mith, will oo come an' thee my dollieth get their pantieth changed?"
"I'd love to see your dollies being changed, dear."
"Emma hath to have lemon pantieth and Becky hath lilac pantieth and... and Ellie hath pink pantieth and..."
Miss Fullslip had parted her stockings and taken Sandra's hands in hers, so that the stiff bulge in his pink little girl panty rested on the inside of her petticoat where it lay uncovered on the settee.
"That's wonderful, Sandra, but before we see your dollies, we'll play a lovely game for little girls... called 'Panty Rubs'.
She leaned her new pupil forward enough for the pointed front of his pink panties to slide along the inside of her silk slip, then gently pulled and released, pulled and released, so that Sandra's pantybulge slithered smoothly to and fro against the teacher's delicate lingerie.
"Oooh, is little Sandra's pretty panty kissing my silky slip darling?" she asked.
"Mmmg yeth mith...wuverley panty," murmured Sandra, gazing with adoration at her opened dress, parted stockings and lacy french knickers. "Wuverley, wuverley panty, ooooooohhhhhh!"
Mummy smiled down on her little angel as slowly his panty showed a spot of wet, and then a swell of creamy liquid came pulsing through the thin panty silk. Miss Fullslip reached round his bottom and quickly drew him into her so that his panty pressed into hers as he pumped and pumped.
"Let it come dear...good girl...Teacher wants all your boymilk ...Yes dear, oh, there's sooo much of it!...Little sissy boys who squirt out their milk onto my lingerie become very sweet and feminine little girls..."
As the young man's pumping and moaning continued the women smiled at each other.
"Miss Fullslip, I feel this is the start of an intimate but very sticky teacher/pupil relationship." laughed Sandra's mummy.


***

BACK