&nbsp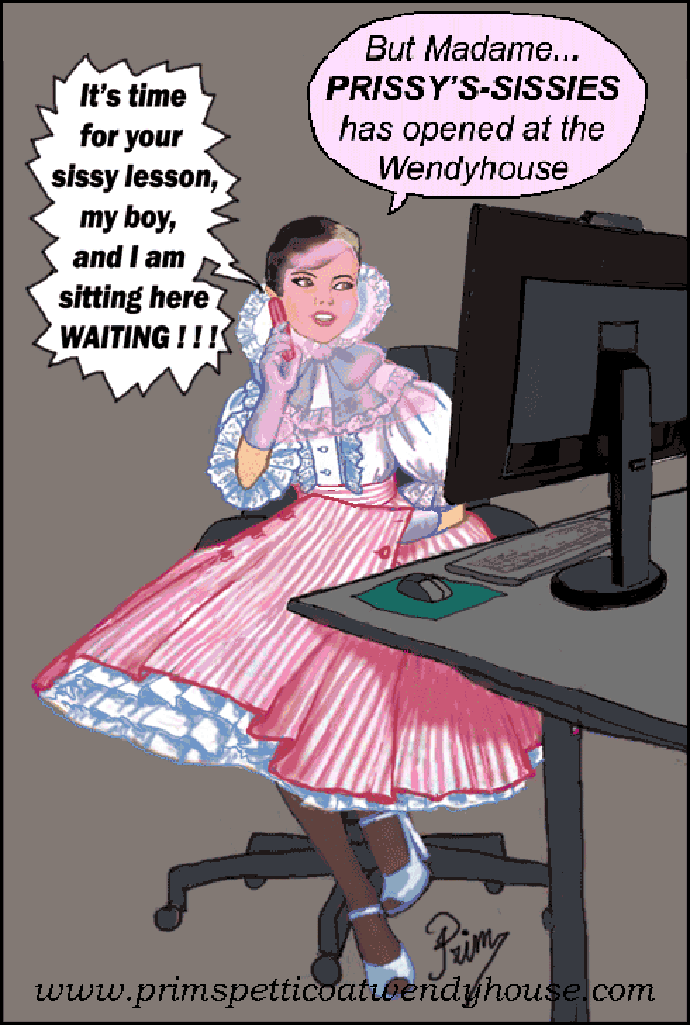 "Ohhhh, Madame! How nice of you to ring!" Tonibel Narcissy bit his lip, his soft new breasts torn with guilt, especially as he was enjoying flurries of sissy excitement without his Domme's permission.

"It is five minutes to the start of your sissy lesson, my boy. May I ask where you are?"

Her pupil wilted at her words, picturing Madame Bootlix in her freshly bobbed black hair and deep crimson lipstick. She could be wearing her silver dangling earrings, with rings sparkling on every finger of her black kid gloves. "Well, I-I'm still at home, Madame. It's because, well."

"At home? AT HOME!" There were sounds of choking in Madame's double-chinned throat. Her sissy pupil did his best to explain.

"Of course I want to come to Sissy-Time, Madame Bootlix, but -

"WHAT! How DARE you make excuses to me, you snivelling little effeminate. Your appointment," Madame Bootlix got no further. Her ear was assaulted by a squeal of delight.

"Ohhh, I've just come into the Jessica Room and its ohhhh, ohhhhhhhhhhh, my panties feel so lovely under my petticoats, Madame. Ohhh, there's a story by Prim called 'Baby In Pantyhose'. Let me open it. Ohhhh, it's illustrated, Madame. It's one of Prim's illustrated stories. Just let me undo my skirt."

There was a bang through the phone, as Madame's gloved hand slammed on her schoolroom table. "I don't care if you can see a DOLL called BABY - SURROUNDED BY WOMEN!" and she spluttered about how her whole life's experience had never encountered such flagrant disobedience.

"Oh but I can, Madame. I'm in the Stephanie Room now, and there's a sissy-baby all right and he's called DOLLY, and his mother has got him surrounded by every girl he used to go out with!" Madame's words weren't really going in. Her pupil's eyes glazed with rosy femininity, trying to focus on the musical lines of Prim's story, with Dolly fastened into his buggy amongst his former girlfriends. Faith cuddles his face, her hands round his bonnet, while Beth's fingers wheedle their way inside his rubber panties and down the hollow of his thigh, inside his diaper, to see how helpless and stiff his little bit is while he is in their hands. The phone-line had fallen quiet as his fifty-year-old schoolma'am stretched her ear at the phone to catch the unmistakeable sizzle of silk petticoats.

"What are you doing? Are you feeling the front of your panties?"

Tonibel couldn't deny it. Madame Bootlix could smell a lie, even over the phone. "Just for a little minute, Madame, it's because his girlfriends have to check what his winkle is doing, in front of his mother, with their hands i-i-inside his diapers, Madame." The sissy's voice trailed off into gasping and sighing and his growing helplessness carried over the phone. "Ohhh - I'd better come out of this story, Madame," he gasped. "It's in the baby page of Prim's Petticoat Panties issue 6. There are sissy baby stories like this in every issue, on Aunt Frocks' baby page." He clicked his mouse a couple of times. "Yes, here's another, ma'am, in issue 7: 'He Needs His Dypie Changing, Mother.' Ohhhh, you should see the baby dress and bonnet they've put this poor husband in, Madame."

"Wait! Stop! You haven't gone and bought TWO issues of that stupid magazine, have you?"

Tonibel barely managed to catch her words as his satin gloved fingers frolled a handful of petticoats round his panties. "You don't have to buy them, Madame," he explained, his eyes roaming over streams of petticoats in Aunt Frocks' dressing boudoir, "there are lots of them in the Wendyhouse. You used to have to buy them, I think, but now they are all free when you're a member. That's thirty issues I can browse through, Madame, and I will feel so girlish and sweet through all of them, week after week, for months and months. I can be a rosy pink girl here in the Wendyhouse for years to come."

"Now listen to me, Tonibel Narcissy," rasped his teacher. "You must have been squandering your money to get all this. Tell me how much you've thrown away for all these miraculous magazine issues."

"Ten dollars, Madame."

The phone went silent for a second. "How much?"

"Just ten dollars, Madame. I'll pay ten dollars a month, and I can live in the Wendyhouse." His satin fingers slid smoothly up and down his stiffness as he found himself in issue PPP#9, staring at the picture of Panty Changing Time in the Sissy-Sweet Boutique. He was startled out of his bliss by a fierce THWACK down the phone.

"D'you hear that, my boy? The whack of my crop across the punishment horse. The sound you'll be hearing if you tell me any more of these ridiculous lies. You couldn't possibly have all that for ten bucks."

"Oh but I'm not lying, Madame Bootlix, I would never lie to you because of the awful taste of Fanny, the riding crop." He pictured the cream satin of her blouse stretching this way and that across her pointed breasts as she flogged the horse another two or three times to make her point. "I'm a member now, with Aunt Frocks' help every day. She'll help me feel ever so sissy and feminine, with gorgeous pictures from top sissy artists, with hundreds of stories by Prim. There's petticoat discipline on every page, and photos of sissy readers and..."

"Stoppit! You put that phone down and turn that internet off at once, Tonibel Narcissy, and get here now for what's left of your sissy lesson. Otherwise, you can FORGET about learning to be a girlikins with Madame Bootlix, d'you understand?"

"Ohhhhh - ooohhhhh - ohhhhhhhhhh!," gasped Tonibel again as he opened the Sweetheart Styles page in issue 18, to glow with pleasure as he read about the ruffled silk sun suits with rubber lining in the pictures. He knew he was going to be totally and unforgivably feminine in his own little clitoris now that he was in the Stephanie Room. He was being terribly naughty, but at least he did what he was told and closed his call. Only so that he could concentrate all his feelings on the delicious stories in Prim's New Petticoat Wendyhouse. He had some remote idea that he may not be going to see Madame Bootlix again, especially since she would definitely tan the soft globes of his bottom for missing one of his lessons. He clicked his way out of the Stephanie Room and popped into the Molly Room, and in no time at all he was swooning with spasms of pleasure, reading about Matthew Boscombe and Mister Everley in the Squidgy Room at Satinette Sissy. The glow in his clitoris became a tide of pleasure, which was no surprise as the two of them were deeply subdued by their mother and wife with women's satin fullslips.

"Oh thank you, Prim. Thank you, Aunt Frocks. I feel so-o-o-o-o-ooooo feminine inside my panties. I'm going to live with you in the Wendyhouse, alongside lots of sweetheart sissies."


***
Prim and I do hope you will join us in the Petticoat Wendyhouse. The stories and fashions will make you
more and more feminine each day.
&nbsp