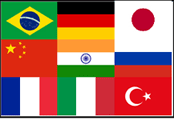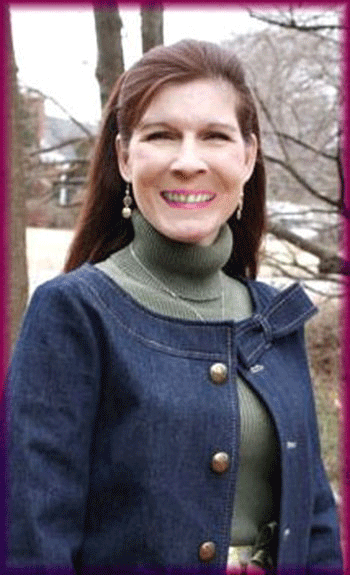 Hello my precious, welcome and come into my arms. I want to show you everything the girls have sent me, and my Newsletter this time has a lot of dressing as its theme. I know you like pretty dresses, so you can feel femmy and rosy while we're reading and looking through the photographs together.

But first I've got a bone to pick with the girls who are members. I wrote to you about this in my Newsletter No.15, but not many of you have taken advantage of our offer of a free month. You remember? If you are already a member of the Wendyhouse, send me the email of a friend who would like to try a month of free membership. You get a free month for yourself too. FFT - FFU = Free for them, Free for you. For details, click here.


Invite a friend - FREE MONTH
I suppose "a free month in the Wendyhouse" isn't much of an incentive because not much cash is saved. Just 9 USD for your friend and 9 USD for yourself. But the important thing is, to BRING US MORE GIRLS. We need those girls to have a fab time with us and go spread the word about how nice it is in the Wendyhouse. That's what the offer is all about.
The big news this month, though, is
language
. Yep, the Wendyhouse can now be translated into your language, no matter where on the globe. It's already started: this Newsletter you're reading can be changed into any worldwide language by clicking on this drop-down menu for you to make your selection. Try it now and see.
There you go: my Newsletter, with your letters and photos, can be read equally by girls in Rio, Beijing and Frankfurt, plus New York, Moscow and Osaka, and all the languages in between.
It only works on pages where google translate is installed, and the bad news is it can't change text that forms part of an image, which is why it won't work on everything on our home page. But the good news is that once you select your language, it changes all the pages where the translater feature is installed. Click to another page and check that out too.
This means that you can enjoy your Wendyhouse experience in your own language, because if google translate is installed on the pages of PPP#30, for example, it sets all the pages the way you want it.
Good huh? Apart from this August Newsletter, the drop-down selector will be at the top of the page. Prim has started going right through the Wendyhouse, although he says it could be a couple of weeks before it's all done.
Right, that's good news, my darling. And more good news: you and I can now see what the girls have been sending me.
Loving hugs,
Aunt Frocks xxx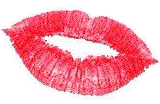 ---

Letter 1 - Subject: Prim's Petticoat Pansies #30

Oh Aunt Frocks, Revered Domina:

That story, "Caught in Flagrante Transvestes" ( is there an act of Parliament, defining that as an offence?) Who cares, with the situation those two found themselves. (In really deep P.......). Oh EEEEEEEEEeeeeekkkKKK!!! That is literally the stuff of nightmares! Is there any "T" who cannot remember waking in terror in the middle of the night after such a dream! and HORRORS! they are caught for real, in the daytime. I don't even want to think about what happened next, but all manner of very bad outcomes come to mind Brrrrrrrrrrrr.

YrHmble&ObtSrvt: Sissy Maid Emily

Dear Sissy Maid Emily,

A big kiss for writing to tell me what you liked. And of course you're right - the stuff of nightmares. Who knows but Prim might have to include 'what happened next' in our next issue. I don't know what he would imagine, the little minx, but in his hands, big sisters and their friends can turn out to be cold-blooded and inventive when they decide to mete out justice, etc.

I'll forward your mail to his inbox, darling, with a firm suggestion that he should listen to what I say. Don't you agree?

Love and a cuddle,

Aunt Frocks x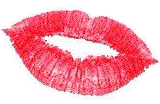 ---

Here are some more photos of one of our sisters who appeared in an earlier Newsletter and is now gracing this one. Andrina !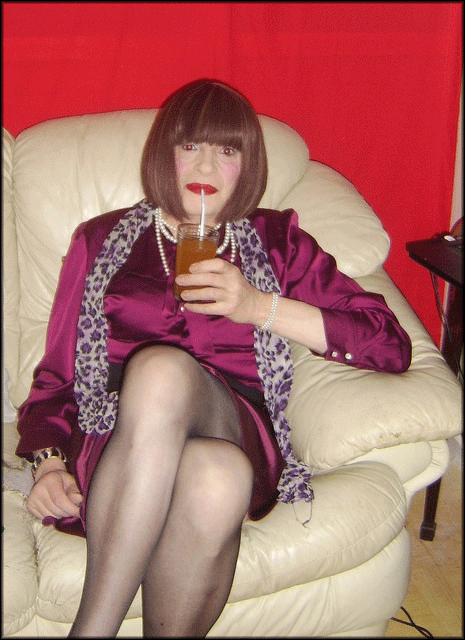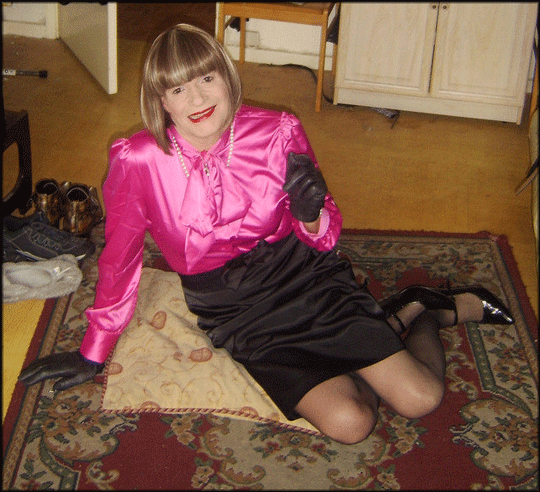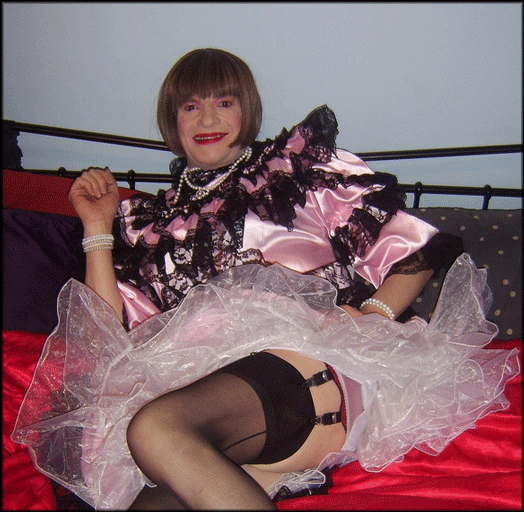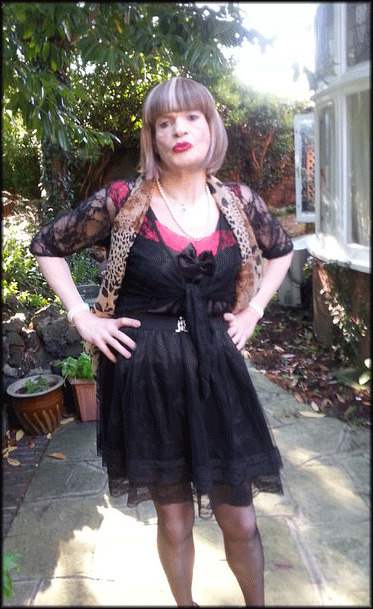 Fabulous, Andrina, and thank you for your photos.


---

Letter 2 - Kept in chastity - except when released to masturbate for Mistress Stephanie in front of Rose Room sissies

deep curtsy to my Auntie
sissy-girl petal

Aunty Frocks:

I am still crying a lot. I think mostly because of the chastity. I can't explain how much more submissive and compliant it is making me. I beg Mommy to give me some release and she just laughs. I have called her the last two nights and told her that I can't stop crying. I now have to keep a dummy in my mouth and suck on it unless she allows me to take it out. It really helps. But I am so scared she will treat me as a baby since she says I cry and act like one.

I finally told her the truth about something. Why I could not please her when we were having sex. I was masturbating to pics of sissy Annie.

Almost 10 times a day. You can only imagine her reaction that I was more aroused by pics of a sissy than by her.

She took off my chastity and had me masturbate for her. She had me do it to 10 girls in the Rose Room. The last one was sissy Annie.

She even took movie of me doing this. While I was stroking I had to tell each rose how much I wanted to fuck her.

Then she locked me back in chastity. She showed me pics of pretty sissies in little girl dresses. She saw how excited I was. We talked all about how much I wanted to be just like those sissies. Feminine, girly, delicate, dainty, submissive.

She explained that being de-maled was the only way I would get there. That female hormones after the surgery would make a big difference.

Then I saw how angry she was at what I told her. She said that if I refused the surgery I would be humiliated beyond anything I could ever imagine.

Mistress Stephanie found these pics She told me that this is who I really am:

(like in prissy sissy 1). Once I become de-maled all those nasty thoughts will go away and I will just think about my pretty dresses, my dollies and being the most femme and girly pansy.

(prissy sissy 2) - I need to be completely feminine. I never will be until I am de-maled.

(prissy sissy 3) - I crave pretty little girls dresses. Mommy said after I am de-maled I will have lots

(prissy sissy 4) - So sweet. I want to be just like her playing with my dolly.

Well that is when I asked Mistress Stephanie if it could be done sooner. She said she would check but probably not.

I am grateful that you are thinking about me.

deep curtsy to my Auntie

sissy-girl petal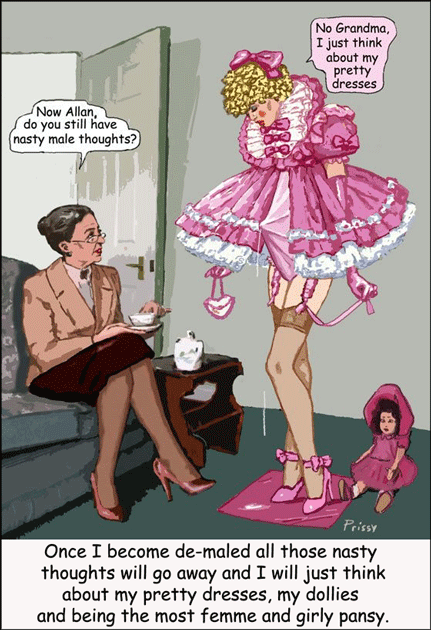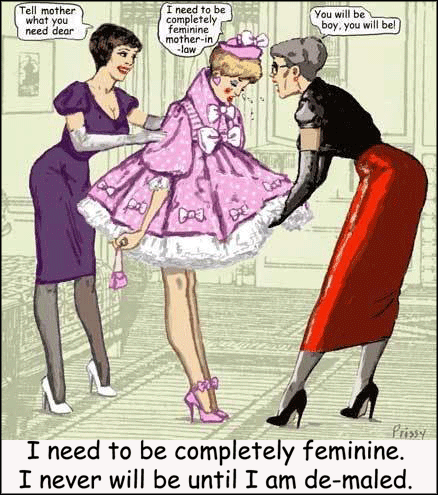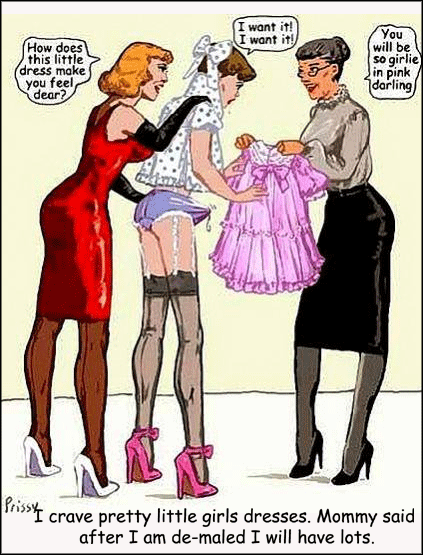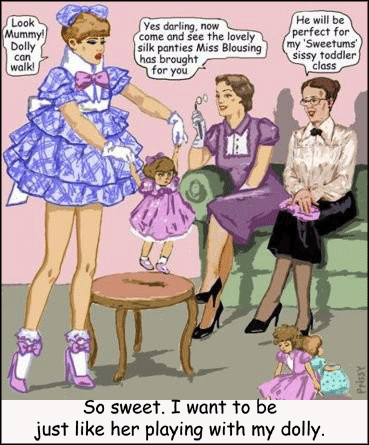 There is a link to Prissy's site on our Home Page, or go here: -



Prissy's Sissies


Poor sissy-girl Petal - kept in chastity except when she is released for forced masturbation to pictures of sissy girls.

I am genuinely sympathetic and sorry for you, my darling. But of course I understand Mistress Stephanie, although I must say she is strict and firm.

So you will be de-maled? Yes dear, the Prissy pictures you sent me give me the picture of your future, bearing in mind that there will be no turning back, no recovery of your male side. Sigh. That is a big, big step. Just bear in mind, darling, that until it happens, you can turn away from that fateful outcome. That said, though, a lot of sissies would love it, love it.

And it sounds like you are going to love being Mistress Stephanie's property too - her de-maled sissy-girl who would never have made it as a boyfriend anyway.

I've got a feeling you will be telling your Aunt Frocks about it, so as to keep my in the picture.

Hugs, my little cherub.

Aunt Frocks x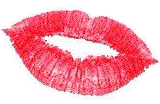 ---

Here are some girls who love to put on beautiful dresses: our four new faces for August in the Rose Room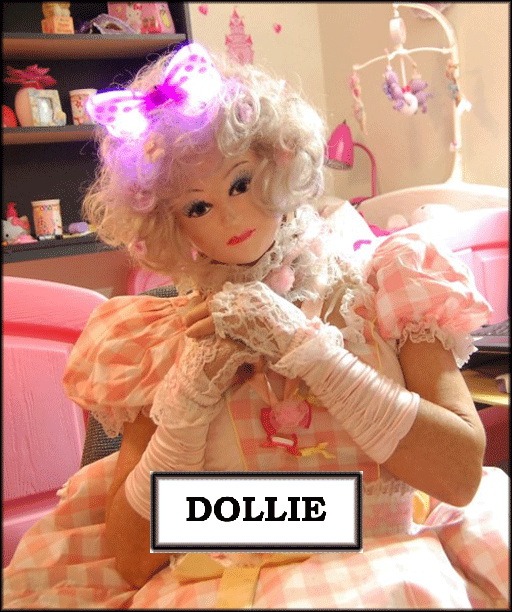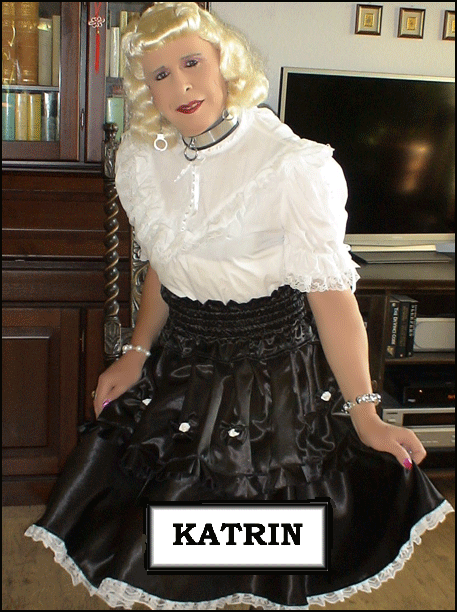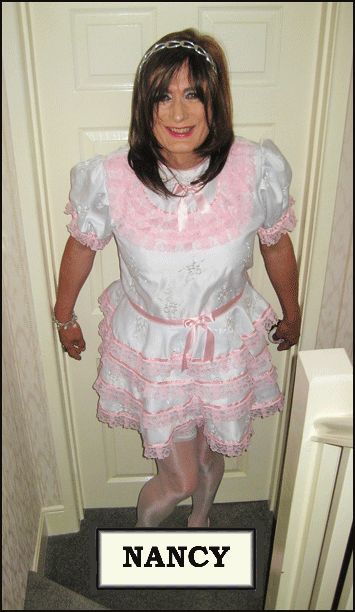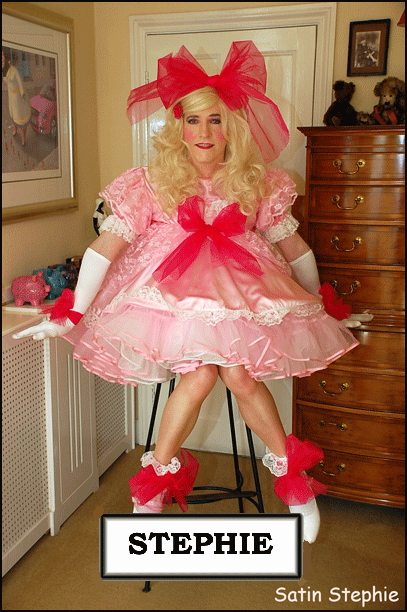 Aren't they delicious, darling? You can pop over to the Rose Room and see them in their full galleries.


---

Letter 3 - You asked us what we want to see in the Wendyhouse - Reprise of Denise's letter from PPP#30 'Tell Aunt Frocks' asking for sissy dresses

This is what Denise wrote:

Dear Prim, you say in the Join the Wendyhouse page that members can influence what goes into the Wendyhouse if they mail you and ask for what we like. I want to add a few likes for you to choose from. I'll try and put them in order of preference.

-pictures where women masturbate a sissy between them, like in PPP#23 story Goodness you are enjoying being dressed Mister Smith. I go back to that one lots and it always knocks me out.

-pictures where the sissy is secured in masturbation equipment. Machines and things are so exciting for making him helpless. It's one of the best things about Walt Wisconsin. -pictures where sissies kiss and cuddle, the closer and more erotically the better -in Aunt Frocks' boudoir I like seeing sissy dresses most. I find them really exciting.

If you can keep these things in mind I'd be a happy member and I guess lots of other members would like you to do more like these.

With thanks and hugs,

Denise xox

Thank you for your letter, Denise darling. I'm sure you won't mind me replying instead of Prim although I assure you he has read it and taken your requests on board.

Like I always say when members send me a letter like yours, it really, really helps Prim pick the nicest things to make you feel happy and fulfilled in the Wendyhouse. You help me too. So it's sissy dresses you like most? Then sissy dresses you shall have, more and more. Did you see my Newsletter (No.14) with online links to sissy dress retail outlets? I hope that will be helpful.

Let me hug you close, pet, for such a good letter.

Aunt Frocks x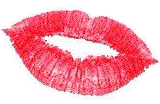 ---

Here are some more photos of sissies in dresses - not all of them the ultra frilly sissy designs we usually think of. Sometimes girliness comes through with a simple dress that is so-o-o-ooo feminine.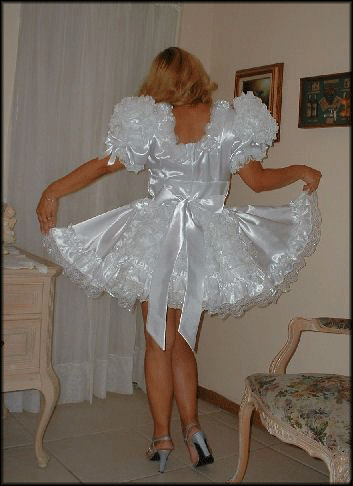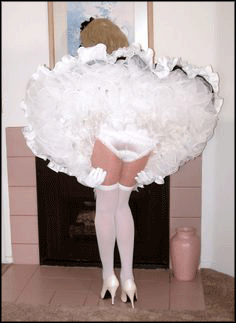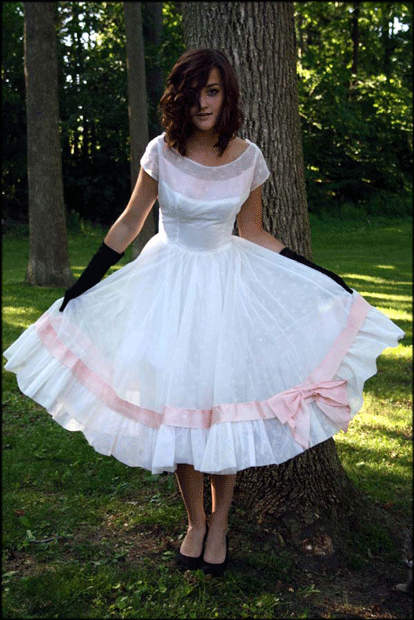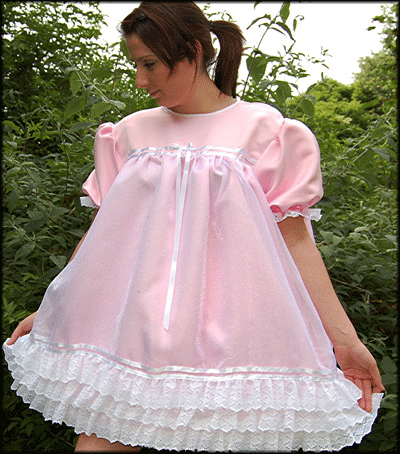 ---

Here is someone else who likes sissy dresses.

Letter 4 - Needing guidance on choosing a maid dress from Birchplace

Ms Frocks (curtsy):

Lady Xandria was very upset at me for what I left out of my email to you. I admit I was too embarrassed to tell you the details. She had me service sissy Annie and sissy charlene. I wrote that but not the details. I was whipped for that.

She had them stand in front of me holding up their dresses. I was on my knees. I had to pull down their panties with my teeth and then suck their clitties, each for 2 minutes. Then switch. I had to do this for an hour. Mistress was upset than neither of them came in my mouth. Little Annie is so small that she really can't get hard. But Charlene is about 6" or so. She had me do this to prove that I am a sissy. She says I will be doing that often for Annie and her sissy friends. She even paddled me in front of the sissies. I had to bend over and cup my ankles. They held my dress up on each side.

The humiliation was beyond description. She called me cock-sucking sissy French maid blossom.

The photo is of me, Audrey, of course. Lady Xandria has been looking at birchplaceshop.com for a sissy dress or two for me. She would like your advice as to which sissy dress you feel would be the most humiliating for me. She said that those might be the perfect pics for my Rose Room entry.

I beg you to give this some consideration. I will be punished if you choose not to help me.

Any sissy dress fetishes? - Well I do love maid dresses. Lady Xandria will eventually choose some for me.

I am very, weak, sensitive, delicate and now I cry out a lot because of the humiliation.

She also threatened to give me a male name. So people just think I am a feminized man.

Love

sissy French maid blossom

Hello Sissy Maid Blossom. You are a good sissy for writing openly to your Aunt Frocks, even though that may include painful confessions. Remember, whatever you write to me may go into my Newsletter and be seen by a lot of girls - your reputation and pride would suffer. The only re-assurance you can cling to, I suppose, is that I can only fit one of your confessions in each time, so much of your humiliation goes un-read.

I found it interesting that Mistress Xandria required you to service Sissy Annie and her friend. She is quite adamant, then, that you will be a fully-humiliated Sissy-Girl. I am also gratified that she is firm and resolute. You are not going to get away with things, Sissy Blossom.

Choosing a dress from Birchplace is never easy, because there are so many to choose from - it would be easier if you had to choose one dress from a row of three, I suppose.



Birchplace


My recommendations, my dear - to save you from chastisement - are: either the Felicia Sissy Dress, or the Baby Bows Dress. Both of them are very short and filled out with bunchy pretty petticoat frills. You would be clearly marked as a sissy when Lady Xandria's friends watch you doing your housework and chores for them. Also I would like to see you wearing dresses like these for your entry in the Rose Room, although I like the girls to wear a variety of costumes: their favourites even.

Be sure to pass on my admiration to your Mistress for her strictness where you are concerned.

A blousey hug for Maid Blossom,

Aunt Frocks x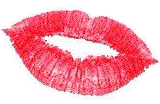 ---

We saw some of the photos sent to me by Blond Barbie Sarah in my July Newsletter, darling. I'd love you to see her again.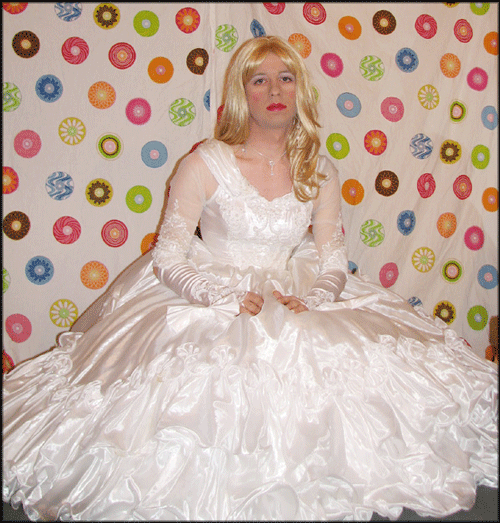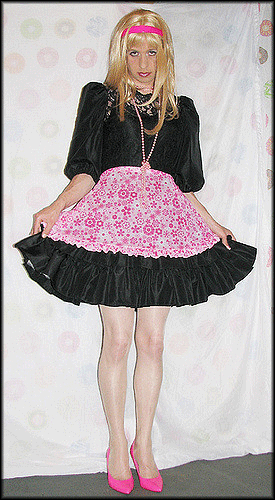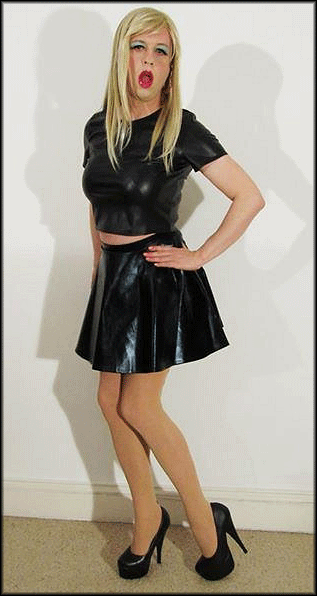 Gorgeous, Sarah sweetheart:


---

Still on sissy dresses, what about the fabulous styles worn by our next sissy-girl, Katrinthesissy. You may recognise her from Christie Luv's site at Sissy Kiss, and guess what - she makes nearly all her own dresses!!!

Letter 5 - my growing love of sissy dressing

Dear Aunt Frocks,

even though I have peeped in the Wendyhouse quite a couple of times before I did not join until Prim contacted me on SissKiss and asked if I would like to contribute some pictures to your beautiful site what I happily did.

I would like to mention that I made all the dresses, garments and accessories myself.

So how did it come that I started sewing?

As you can take from the pictures I am just a sissy weakling that enjoys dressing up in the most frilly and humiliating dresses that leave no doubt of who and what I am - and I am proud of it.

Already when I was a little child I felt that I can't meet the criteria that are expected from a boy or a man and I was rather jealous of all girls, I adored their gentleness and the clothes they were allowed and expected to wear. I always wanted to be like them or yet better, I wanted to be one of them.

Later on I did not make much effort in pretending to be a boy. I failed in all boys sports and their toys bored me to death … I rather liked playing with dolls and as I grew up I became more and more interested in fashion.

Well, I skip the years of doubts and trouble which are probably well known by other transvestites, transsexuals and sissies. More than 15 years ago I met the kindest and most understanding Lady who is now my beloved Mistress. Others might say that She enforced my feminization but I call it just encouragement to bring the person I am out of the shell. Right from the start She made sure that all my remaining nasty male habits needed to be extinguished and so it was only consequent that I was fitted for a full chastity belt. It's not about tease and denial, but She wanted my silly male bits out of sight, out of reach and out of mind. Over the years I became so accustomed to the belt, that I now feel awkward and incomplete without it.

With all my submissivenes and interest in housework it was not amazing that She trained me to be Her maid and turning me into an utter pathetic sissy has eventually erased any male traits that were left.

Appearing like the sissy I am does not just mean to dress up in women's clothes, but Mistress and I prefering the most frilly, lacy and juvenile dresses worn by no one else than little girls - if at all.

After ordering some dresses online, of which some were poorly made and di not fit, and spending lots of money Mistress had the idea that it would be a nice pastime for a sissy to make her own clothes. Actually She wanted me to enroll at a sewing course but fearing the utter humiliation I pretended to have some exeriences from the past. This was not completely wrong but compared to what I am sewing nowadays it was just aimless stitching. Silly as I am I had maneuvered myself in a trap. Either I would come out with some presentable items or I had to confess my lie and face the consequences. Well, I started with simple things just like mincing ribbons to match the dresses I had, hairbows, lacy collars or chokers. Luckily very soon I went on to making frilly petticoats, panties and finally my very first full sissy dress.

I have made dozens of utter frilly sissy dresses since that time and still I have so many ideas in mind. My latest projects were the pink and minty blue pansy boi rompers. In my mind the ideal garments for a reluctant sissy boi that insists on being allowed pants again -

Of course, being an obedient sissy I confessed my little white lie later on and of course, got severely punished for that. Fair enough!

Dear Aunt Frocks, I hope you like my little creations and would be much happy to see them being published in the Rose Room and/or in your newsletter.

deepest sissy curtsy

Sissy Katrin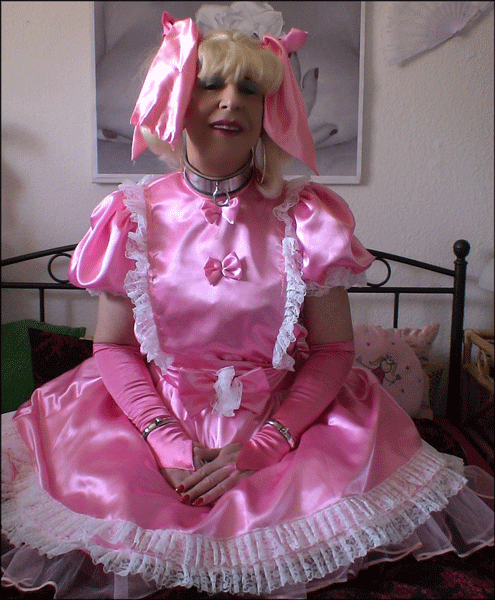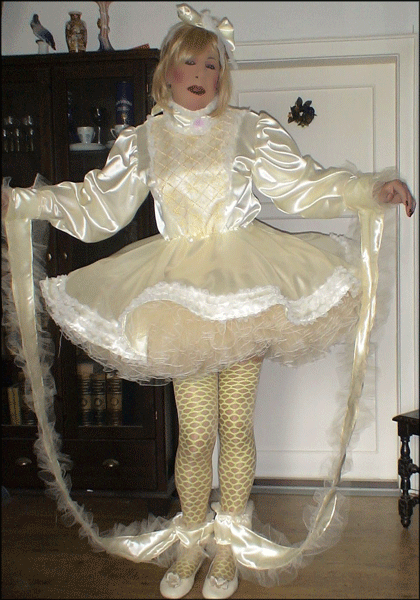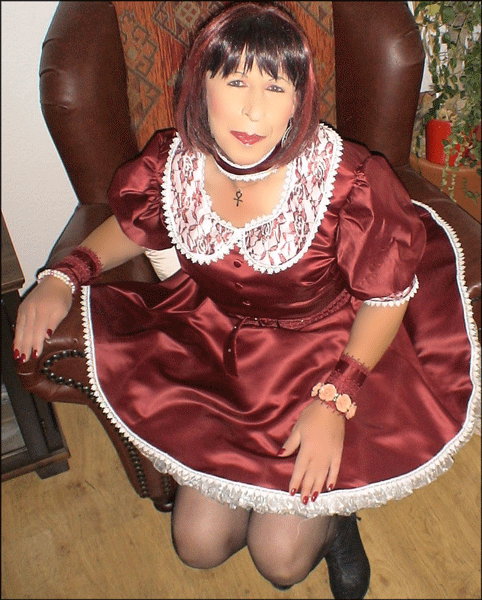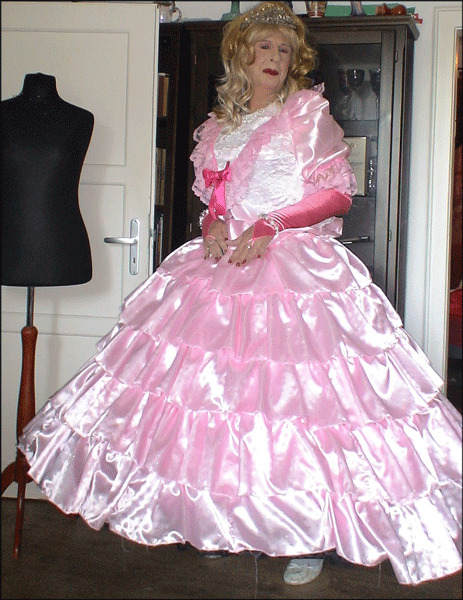 Hello Sissy Katrin my dear.

Prim tells me he has replied to your nice letter himself, but I want to tell you how pleased I am that you have sent me a set of photos that show what a talented and very sissy girl you are. Making your own dresses and costumes must be such a pleasure for you, darling, and your imagination and attention to girly detail is wonderful.

Trying to pick out favourites would be impossible for me, since they are ALL awesome in their design and in how well-made they are. But I guess by now you've had a lot of practice, lol. Your floor length Princess gown in oyster pink satin must have taken you so long, but when you finished it, you will have been so delighted. Your Mistress must have been delighted with it too.

But if I was to pick out some favourites, I would choose some of your more simple creations that highlight the femininity of your dress: so I go for your rather plain circle-skirted dress in rust red satin with a narrow belt and the pretty collar edged with rick-rack white lace. You must feel so girly when you stand at the mirror in that one. But I think my favourite of them all is the dazzling pink dress which you call blonde bimbo. It's a beautiful mix of sissy pink satin and pretty white frills, nicely topped off with your fabulous hair ribbons.

I can't wait for Prim to put you into the Rose Room, with the nice profile caption you have sent. I would say your Mistress is very lucky to have such a gifted and hard working little sissy girl as you, dear.

Love and hugs,

Aunt Frocks x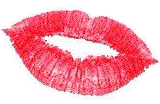 ---

We can't all make such beautiful dresses, but here are two more retail venues where you can look-see, and maybe buy one which you simply HAVE to wear.



Unikaren Designs


If you like to be dressed in rather different sissy costumes, darling, you might like Suzy Sews, which has re-opened after a nice make-over:



Suzy Sews


Lots to choose from, hon. I hope you found something to like. And here's another sissy-girl who loves dressing up as a Prissy Sissy.


---


Letter 6 - New girl for the Rose Room

Dear Aunt Frocks,

I do indeed enjoy the kind of sissy scenarios depicted on your web site and I would be pleased for you to use my photos on Prim's Petticoat Wendyhouse. Thank you for providing me with login details for your site.

Please find attached several photos for you to choose from to create a profile for me in The Rose Room.

Could you also include the following profile text? If it is too long to fit in the space available, just edit it as you see fit.

Stephie

Hi everyone! I'm a sissy fetish dress-up doll who loves to dress in satin and be as sissy as I can be! I adore satin panties, petticoats, heels, makeup, wigs. Basically, anything prissy and feminine. It is a wonderful escape from my adult male self and I can't go without wearing satin and frills for too long. I also like to serve as a PVC, Victorian and sissy satin maid.

I'm excited by sissification and forced feminization scenarios, especially with a group of dominant females. I enjoy humiliation, shaming, forced chastity and being controlled.

The art of Prim and Prissy, and the stories on this site capture perfectly my ideal of the kind of sissy I dream of being. This includes the clothes, scenarios, and the attitudes of the ladies.

In my fantasies I am one of the helpless, feminine, teenage males depicted in the exciting art and stories. How I wish I could magically step into those drawings and be turned into a perfect little satin frilly sissy by those domineering elegant ladies and cruel mischievous girls. My eyes brimming with tears, cheeks crimson with shame, and totally helpless to stop them.

-------------

As mentioned, I would be happy for you to use any of the photos on my Flickr photo stream on your web site. I was thinking that rather than me selecting photos and emailing a selection to you. You could download any of the photos that you want to use from my Flickr photo stream. If you download the original size option these are still good quality for your site. Also, if you want to remove the email address from the bottom edge, you can easily crop the photos.

I also have more revealing photos that are not included on Flicka. These show me in sissy attire and wearing a chastity device. I don't know if these could be used at some point as part of a story.

Regards

Stephie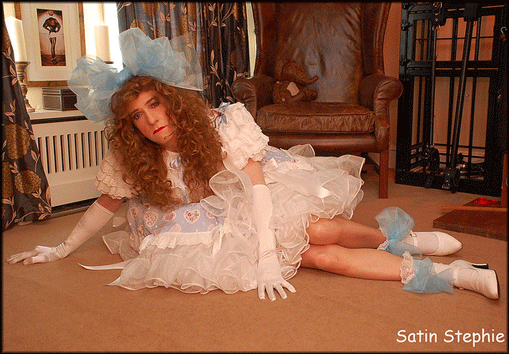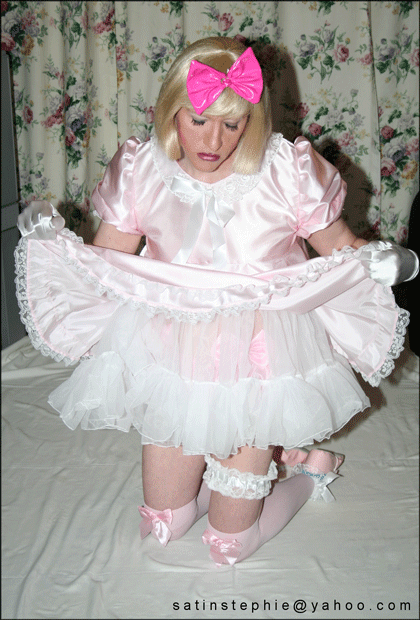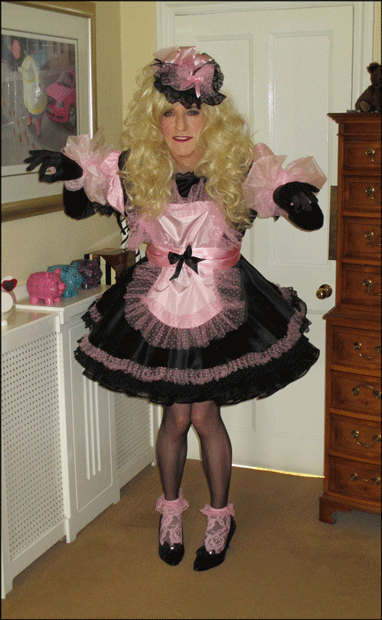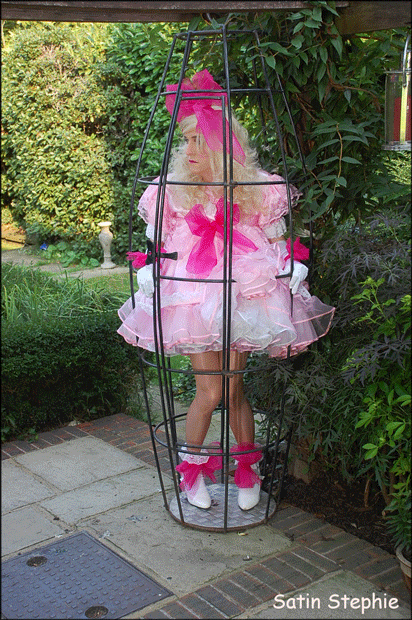 Hello Stephie my little darling.

What a beautiful collection of photos you have sent me, and indeed what a delightfully girly little sissy you are. I could gather you up and squeeze all the last little bits of boyishness out of you and you would cry with happiness now that you are ALL GIRL!

Your personal profile IS too long, pet, but it's lovely. So I will pick as much out of what you wrote as will fit in the Rose Room profile space.

I hope you are finding things to like in the Wendyhouse, darling. Do feel sissy and girly while you are in here with us. And soon you will be with the other girls in the Rose Room, although we are busy at present so that may not be for a week yet, maybe longer.

Your dresses are delicious, and I can see you have a bit of the girly actress in you, sweetheart. That makes you sweet enough to eat.

The girls will love seeing you in my Newsletter too on the 15th.

A big hug and a kiss, darling.

Aunt Frocks xxx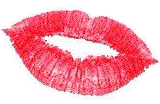 ---

I'm sorry to say that's all for my August Newsletter, darling, but as usual I can tell you about some nice girly things to look forward to. Early in September you'll be able to enjoy Prim's Petticoat Pansies #31, and he tells me this one will be the WOMEN-WHO-USE-SISSIES special. Needless to say, there will be a LOT of shaming and humiliation of very weak pansies for the pleasure of their Mistresses - women who are right to be arrogant because they know how superior they are.

Other tit-bits in PPP#31 will be more photos of Katrin, Satin Stephie and Marie-Christine, and sissy girls in their dresses. Also there'll be new roses blooming in the Rose Room, and in fact a new room too, because the contents of the Wendyhouse are growing and another room is needed to contain future issues of Prim's work. I am also looking forward to more letters and photos from you and the girls, my sweet. Please don't tell yourself that Aunt Frocks will think "What a nerve, sending me her photos" when the very opposite is in my head and my heart. I will be thinking: what a dream girl this is, putting herself out there to amuse and encourage her sisters.

I know you'd like to enjoy another story from the Wendyhouse right now, pet, so here is a lesser-known picture drawn by Barbara Jean, and a story for it by Prim.



Linden Rose at the Girls' Party


Isn't BJ clever, and Primmy too? Here's a story from Prim which first appeared in Aunt Helga's Petticoat Quarterly in April 2016



A New Girly Husband


Oh dear. If only Alexander had not objected to being ignored by his Mother-In-Law. Silly boy!

One last chance, sweetheart, to see another of our darling girls: it's DizzyMissSizzy looking as gorgeous as ever.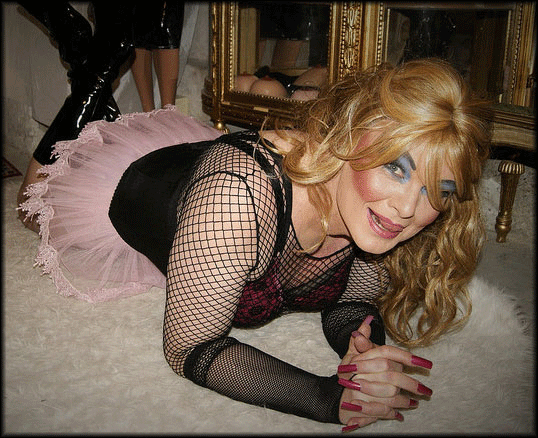 Did you enjoy reading my Newsletter with me, darling, and with so many other girls too? Join me again next month to get a news update on what's to enjoy in the Petticoat Wendyhouse.

A warm, Auntiful hug, my precious.

Aunt Frocks xxx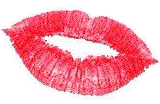 BACK