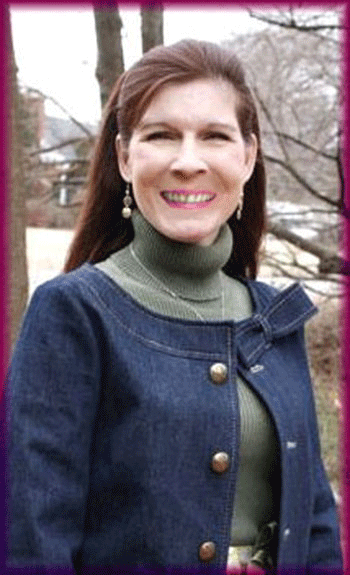 &nbsp&nbsp
Dear Girl, how nice of you to drop by and join your Aunt so that you and I can enjoy my December Newsletter hand in hand. Or if you want, my preciouos, and if you are wearing pretty frills and baby panties, you can sit on my knee and I'll cuddle you into the bosom of my blouse as we read what the girls have been telling me and look at their awesome photos together.

This time I've shortened my Newsletter a bit, but in it I've made sure we have all the parts I like: girls telling me what clothes they love to wear, telling me how they got started and discovered how blissful it can be to wear ladies' clothes, and recounting incidents that include sissy dressing in front of others to show that sweet bliss of shame that sissies like to feel.

I'm also able to bring you kindly advice from Lady Selena who has granted Prim the benefit of her observations, and a letter sent to me by Miss Blouse, Governess, in which she helps Natasha the nurse of Satin - formerly Jennifer - make him ever more sexless and sissy. She says there are three main steps to take in making a sissy more and more helpless: first, feed him with a daily diet of Prim, next, tell him he is the sissy in each of Prim's stories, and thirdly, dress him in Prim style fashion taken from Prim art.

That seems like good advice to me, honey, and I speak to sissies every day and they tell me how they want to feel. So be a good sissy girl and cuddle up close to me as we start reading what the girls have to say.

Warm love, darling.

Aunt Frocks xxx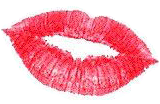 ---

Letter 1 - The Day I Shopped for Women's Knickers

Dear Auntie Frocks,

Prim's readers might like me to tell you about the day I went into a women's lingerie store and bought three pairs of directoires. I've been a dk fan from when I was a boy and saw my grandmother's knickers drying over the bath. I also visited her drawers as often as I could. I slid the drawer open and saw the soft, silky pairs of knickers folded really neatly: silver, white, black and pink.

Years later when I had enough money to shop for my crossdressing, I went to "Margaret's" in a small town in the north of England. I knew the window display very well from standing and looking when the street was empty. It was mostly corsets and bras, nearly all white, but the window also showed knickers and bras on headless and legless dummies. I plucked up courage and worked out my story, and went in.

The lady was at the back, but when she saw a man coming in she came quickly to the counter near the door and asked me if she could help. I explained how my mother couldn't get about now and wanted me to shop for some pairs of knickers for her. I had it written down and gave her the paper: directoire knickers with leg elastic, size 36, in two different colours.

The lady was so helpful. She got trays of knickers out and spread some pairs for me to see, checking the sizes. I found myself looking at a range of women's knickers spread out for me in different colours. I daren't touch, even though I was longing to, in case she began to wonder if my story was true. I chose three pairs, pink, white and green and paid her for them. I thought I'd better carry on my story to the end and asked her if I could bring them back to change if they were not what my mother wanted. She said yes, but I had no intention of going back. I was very excited about the episode, but not as worried as I was expecting. Maybe she set me at ease from the start.

So that was when I bought knickers over the counter.

Keep up the wonderful work you do in your brilliant website.

Sharon xXx

Dear Sharon,

You're an angel for sitting down and writing your lovely long letter to me for the pleasure of our members. I can imagine you wearing a pair of your directoire knickers as you sit at the computer. You don't give me any clue about what other fashions you like, but I'm guessing if you liked your grandmother's panties you would probably like some of her other styles too, so I see you as wearing a silky blouse and a long, wide pleated skirt over a white petticoat, and probably with a girdle and long line bra. Am I right?

Hallelujah for female shop assistants in ladieswear shops who serve men when they come in on their own to buy lingerie. It happens a lot, you know, although in most cases it's flimsy, cutesy, itsy-bitsy matching pairs of bra and panties, with suspenders too. The hose will be at one end of the counter. The idea being, of course, that Mr Smith is buying these delicious smalls to accessorize his girlfriend for the weekend: yes, women's lingerie sales bought by men will be high on Thursday-Friday. But we all know that Sharon buys his accessories to wear himself, don't we, girls, lol?

Your bravery got its reward, sweetheart, when you walked home with those knickers under your arm, and opened them, I'd say in the bedroom, when you got home. Mmmm, that was when your real pleasure would begin. Thank you, darling, for telling us all about it.

Warm hugs from

Your Aunt Frocks x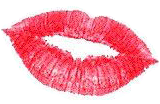 ---

Here are some nice retro catalogue piccies showing the sort of lingerie and foundations that might have been in the window of "Margaret's" store.

I know, darling - those were the days! Perhaps you would like to visit more retro styles from my Newsletter. Click any of these links, darling, but COME STRAIGHT BACK TO ME so that we can read the rest of my Newsletter together.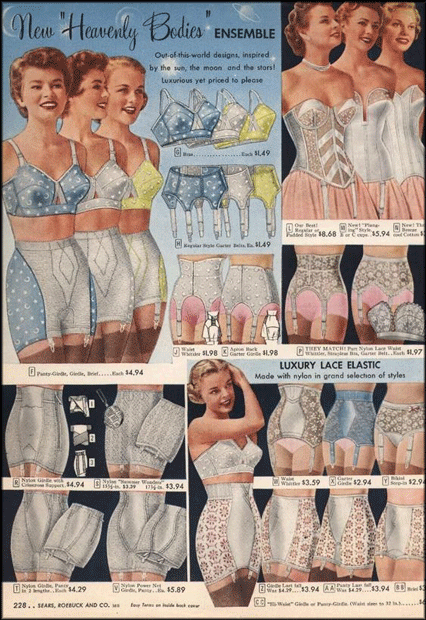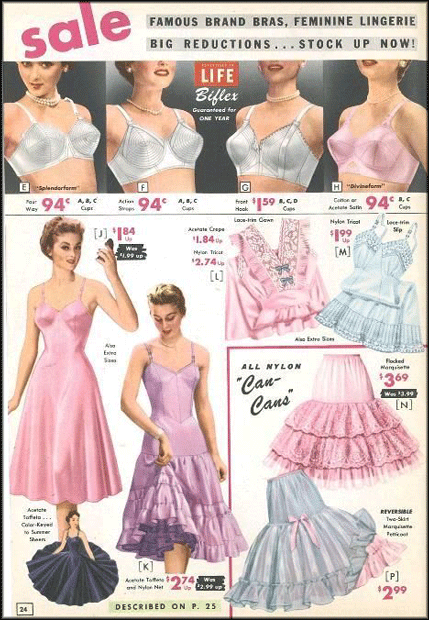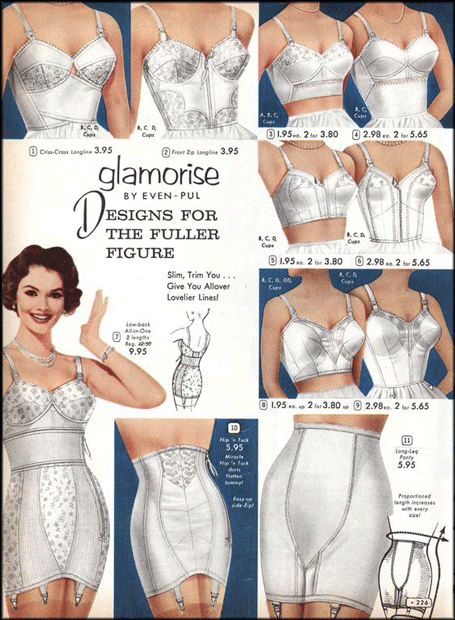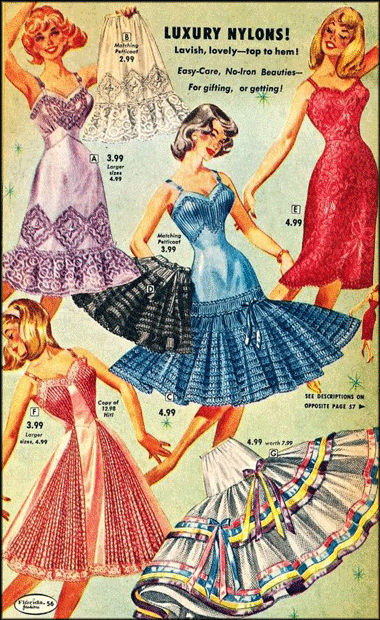 Lana Lobell on pinterest:





Lana lobell 1964 catalog on Flickr:





Lana lobell 1954 on My Vintage Vogue:





Lana lobell vintage petticoats on Pinterest:


Pinterest is a visual paradise for crossdressing inspirations and pure fashion eye-candy, darling, and if you don't go there, you are missing out. A word of warning though: be prepared to waste a lot of time because it's so good it can become addictive. Perhpans 'waste' is a bit strong: what I mean is you visit pinterest for a happy ten minutes, and before you know it the whole evening has gone with some very lovely feelings along the way.

Another delight for fashionistas is Google as a search engine. Go to Google.com, click on the search bar, and type in anything you would love to see lots of. Let's choose for example:



Vintage Fredericks of Hollywood catalogs on Pinterest:


So you've got some nice places to go and visit once we reach the end of my Newsletter.


---

Letter 2 - Dressing as a maid

-- Hi sweetie, what a lovely surprise Primmy, I wasn't expecting you to reply to my email so soon. You caught me out, you naughty sissy girl. By the time I had finished reading your lovely email you had made me all excited again.

That's right Primmy, A19 is the Sissy Maids Uniform I had made for me by Barbara Tam, as I said I have it in Black and White satin as well as pink. These are the two uniforms I now wear when I am working as a house maid for Madam FiFi, which is every second Saturday, and occasionally for Mistress Lady Penelope, when she needs some heavy duty cleaning done in her beautiful house.

Yes Primmy, the dress was half price, so when Madam FiFi had taken my measurements and was making the order for me, I thought it would be a good idea to have a second dress as well, but that one would be in Black and White satin.

I just love the design of it, and knew straight away that was the one I wanted. The very smart Sissy Peter Pan Collar with it's pretty Bow Neck-Tie, and the very puffy sleeves were perfect for me, and I Knew I would enjoy wearing it. I also have three more uniforms, but I can tell you about them another day.

Primmy, you must tell me all about your pretty finery, and what you have hanging in your wardrobe, I would love to know.

Very dainty Sissy Curtsies to my MISS Prim,

Sissy Maid Pansy xxx

PS.

Oh! Primmy, wouldn't that be a lovely fantasy for me to be your Ladies Maid. I would have to take care of you and all your pretty clothes, and dress you in the pretty outfits your very strict Aunty Frocks wanted you to wear on that particular day. Oh! my, what a lovely dream.

I'm sorry for not being so quick in replying this time, Princess.

To be honest, Aunt Frocks is not strict at all. That's not her way. She is firm, but the outstanding thing about her is how well she understands me, and how sissies work in general, because most sissy-girls have the same wishes at heart: to be feminized, both through dressing and by being treated as a female - a very weak and effeminate one. I think sissy girls like her in the Wendyhouse because she is how she is: a maternal auntie who knows how girly all her sissies want to be. She would NEVER use a cane, I know.

It's very nice for you and your sister-maids being required to clean Lady Penelope's mansion for her, and to fall in line for girly duties behind madam Fifi. No wonder you must dress just so for such submissive and feminine work. As for my own wardrobes, they tend to hold items of a crossdressing fetish nature. I have always been an addict of older women's apparel, so plenty of dresses, blouses and skirts, including lightweight summery skirt suits. I wear them because simply putting them on in front of the mirror is exciting. I wear them over a girdle and the sort of lingerie that matronly ladies wear: bloomers, full cut panties, long line bras, full slips or half slips, that kind of thing, All very lady like. I'm sorry to say that a maid's dress would leave me cold. It's funny isn't it how we are all so different - but with the same wish to wear women's clothes. I know from my Aunt (she's into following tg/cds on the internet) that being as female as you can is becoming more and more the thing to be these days.

And I admit, it is nice to feel you are a woman, don't you agree, precious?

Warm hugs,

Prim x

---

Do you remember that fabulous photo of Priscilla St John at the end of my last Newsletter where I promised you more photos of her? I'm thrilled to say she believes in total dressing, as you can see. She also has her own gallery in the Rose Room - see our new girls below.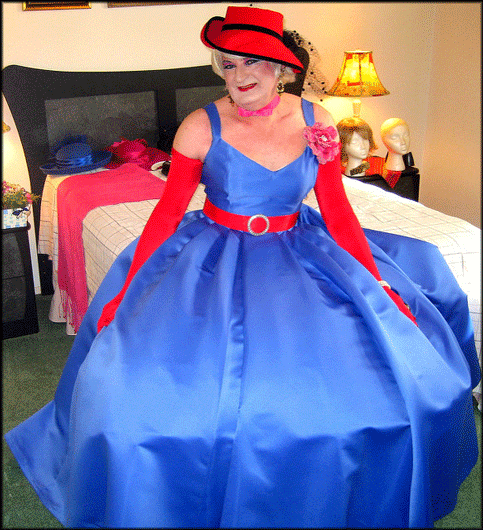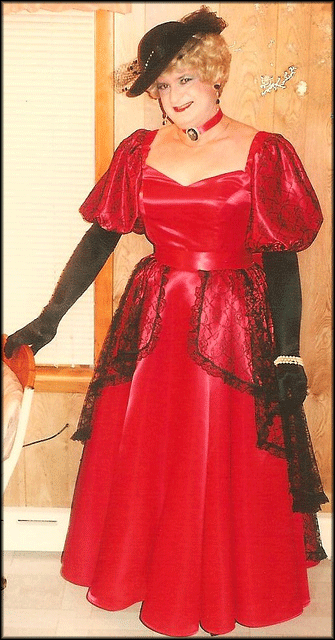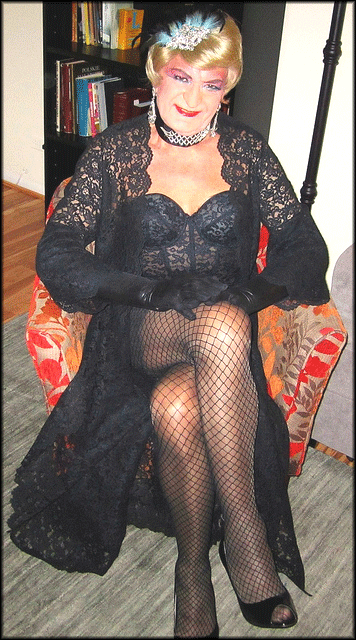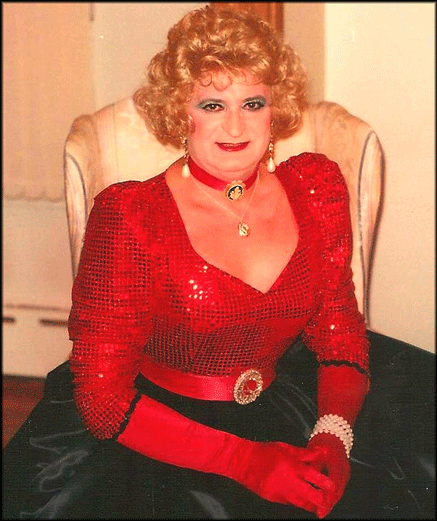 Thank you Priscilla for sharing your photos. Your gowns should be compulsory dressing for all boys who want to be female and feminine.


---

Letter 3 - Lady Selena's advice

Dear Prim,

I'm very pleased that you got a little weak in the knees upon seeing my jaguar cape. It seems to have that captivating effect whenever I wear it. Indeed, a full black rubber rain cape sounds delightful.

Thank you for sharing your fantasies, Prim. I'm quite interested in knowing what triggers sissies to be in such a state of pure bliss. Not to mention, it helps me to understand what I can do in order to make these fantasies a reality. The sissy salon experience isn't too far out of reach. It would be a delight to open a salon boutique that caters specifically for sissy and ex-male sissies alike. I think this can definitely be something you could create in one of your storyettes.

Speaking of smooth and caressing fabric, organza silk is always a joy to wear. My gold organza top is made of the finest silk that would in essence have most sissies speechless. I will show you what I mean in the images attached.

Yes, I am familiar with the original Walt Winsconsin story. I'm looking forward to seeing Michael's forced transformation and strict instruction to have the privilege of having a real Lady's personal regions smothering his face.

Thank you for including my photos in your Aunt's Letters Page. I meant to emphasize if the return of Dame/Lady Selena would be appearing in your storyette's anytime in the near future? I loved seeing the magnificent resemblance in your artwork and they really help the sissies that follow me to appreciate their ladyship in a whole new fashion.

Warm regards,

LS

ps I'm sending you a couple more recent pics that might leave you transfixed. LOL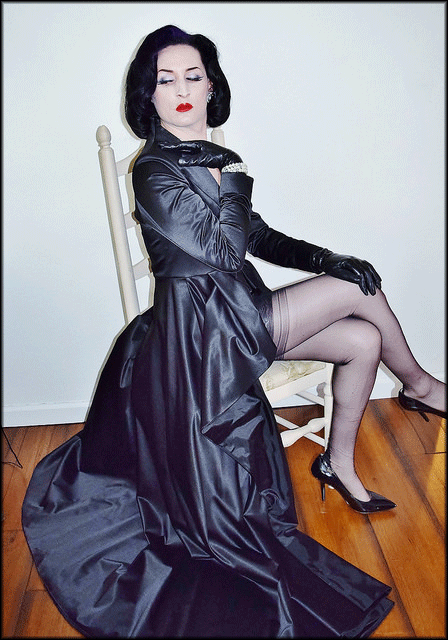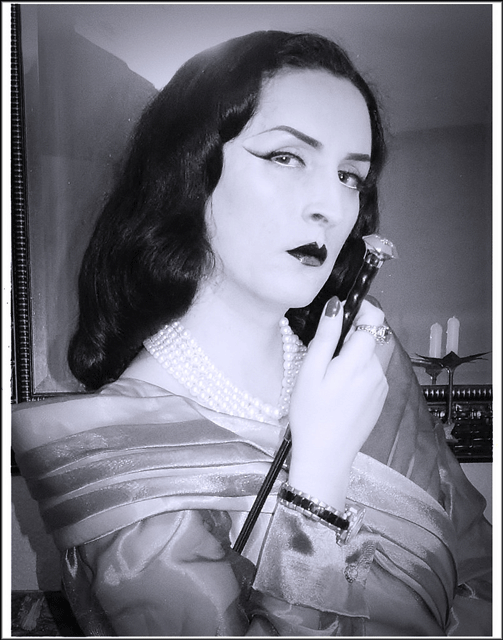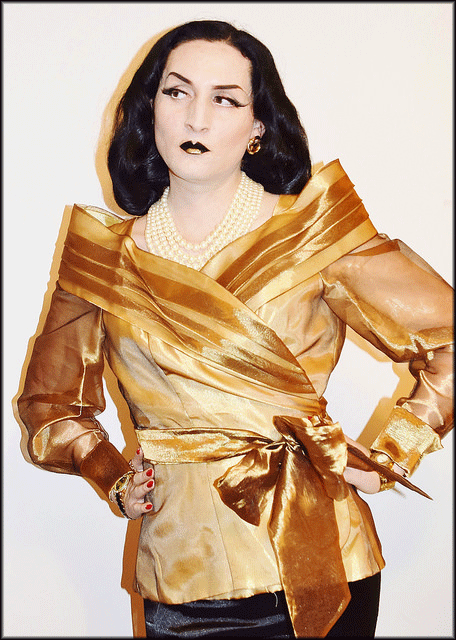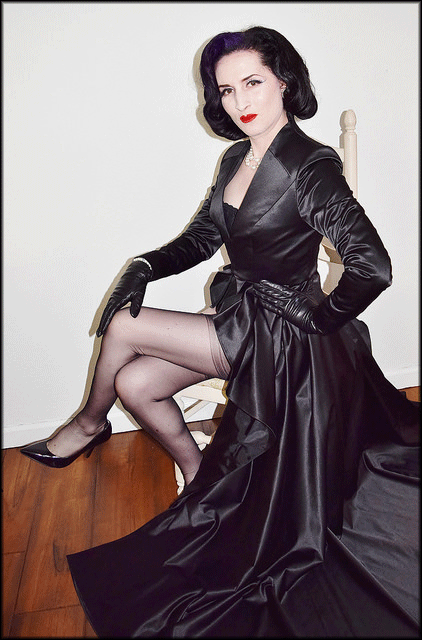 My dear Lady Selena,

Allow me please to read your mail on my knees. I owe you my deepest respects for writing to me and for sending me your beautiful photographs. Yes, Madam, you suit a lavish and glamorous silk top, and your sensuous satinized coat-dress becomes your elegance and superiority. Indeed, Ladies who wear satinized ladieswear, be it a raincoat or as part of their indoor style, exhibit the superiority that sissies like me adore and we thank you from the bottom of our hearts.

You are gracious to pass comment on the Walt Wisconsin story, now that it deals with Walt's future sissy companion Michael Shoemaker. He shows the sort of arrogance that must be brought down to a pathetic level, so lying face up beneath the personal parts of a powerful Lady is a suitable attitude for him to adopt. He will find himself there, as you kindly point out, in Part 6. That will come when I finally get into sequence with following issues of Prim's Petticoat Pansies, Ma'am.

I hope you will be pleased to see, in PPP#32 coming shortly, that your good self is featured in one of Prim's pictures, Lady Selena. I believe I can also Create a salon experience for your delight. These may appear in this issue, or possibly in one of my Aunt's Newsletters. With respect, Madame, in my experience of sissies, the thrust of their pleasure, so to speak, lies not so much in being faced with a dominant woman, but rather in the exquisite sweetness of the feminine apparel that they experience, either being worn by their Mistress, or by being dressed themselves in items of intoxicating girlishness. It is in this way that they sissy feels deliciously feminine. I hope you agree, Madam, but if not, then you are right and I am wrong.

With reverence, Lady Selena, allow me to curtsey deeply before you.

Prim x


---

In my last Newsletter I showed you 4 links to websites that specialize in sissy-girl dresses. Let's not forget the lovely range of dresses on offer at the mansion of Mistress Lady Penelope. It is advertised on our home page, or you can click on the lovely Susie-ann who is modelling two nice dresses for Lady Penelope. She's modelling lots more Lady Penelope dresses at the other end of the link.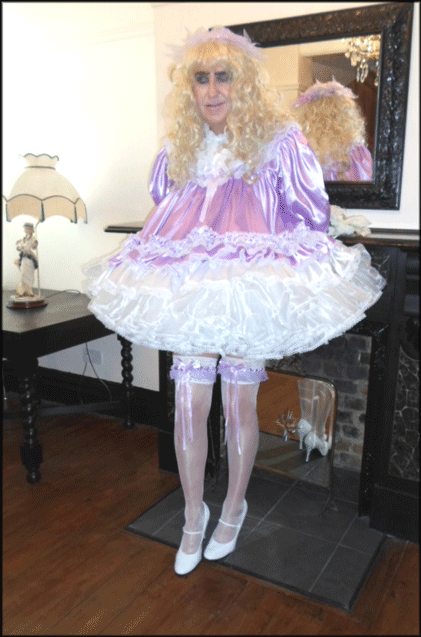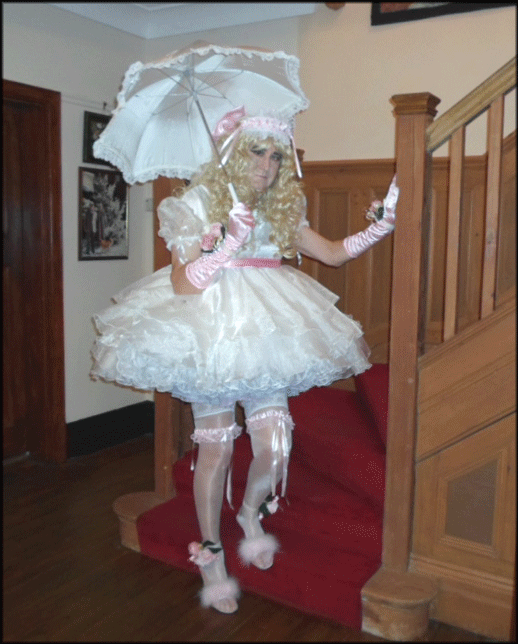 ---

Letter 4 - I want to be in the Rose Room

Hi

Would love to join your little community. I'm a 39 yr old sissy T-girl who loves being a maid.

Sweet Regards

stacy x

Stacy my darling, thank you for writing to me.

My, your photos are dee-licious, you are such a sweet thing. You have such precious dresses that I can see you make a perfect sissy-maid. I would certainly like to inspect your uniforms myself and have you serving me my afternoon tea, with a spot of cleaning for the other seven hours of the day, lol. It's true though, isn't it, Stacy darling: being a maid isn't just wearing nice uniforms, it's about doing as you're told and working hard about the house. But you know that - and you love it.

Now I need to know if you are a member of the Wendyhouse, because new girls in the Rose Room are eligible for a free month's membership, and if you are already subscribing, I need to arrange with you when you will have your free month. If you're not a member, tell me and I'll send you access authorization. This is all because our girls just love to see more girls happy to join them, so you deserve a little reward. I'd also like to know if you want me to include your line about yourself in your previous mail as your text profile - in that case I'd miss out one of your seven photos. So please write back and let me know.

And I'm thrilled that you're supporting us in Prim's Petticoat Wendyhouse.

Warm hugs, my darling.

Aunt Frocks x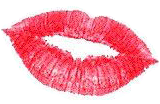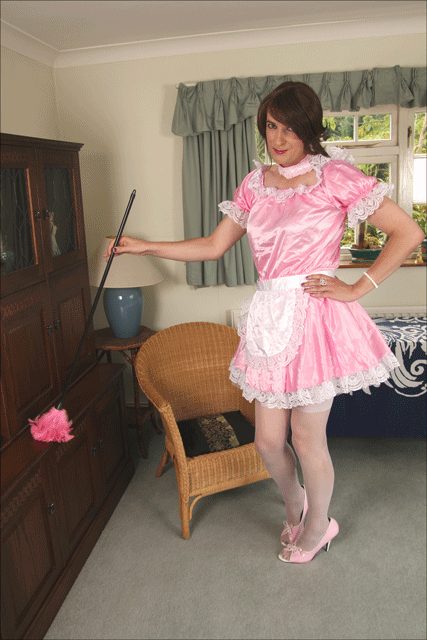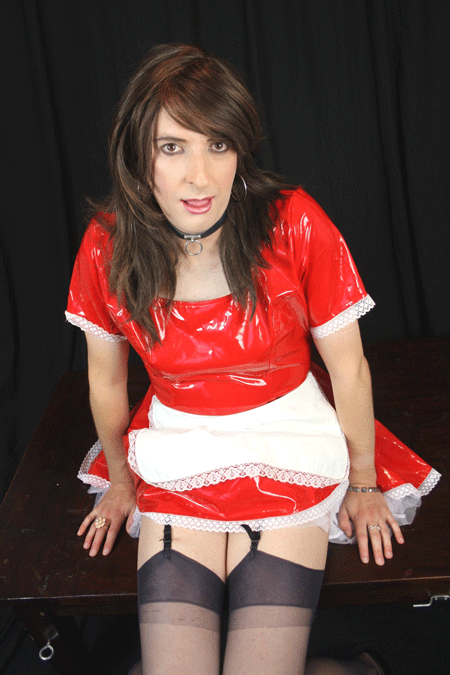 Hi Susan

This is the colour I usually write in, It's my favourite, nice and girly LoL

Thankyou for your speedy and lovely reply, I was very excited when I saw it in my inbox. You're right I do love being a maid but I'm not a fan of chores, so I'm usually a naughty one who gets spanked a lot LoL. I've done a little passage of text below to include with the photo's. Please use your judgement as to which one to delete of the seven I sent you.

'I'm a 39 year old sissy bisexual T-girl from the UK. I've been dressing up my whole life, my earliest memory is from 8 years old when my mother found me putting on her lipstick. Over the years I've developed a serious interest in forced feminization and BDSM. I especially like being someones dress up doll and being told how they want me to look. I've become quite proficient in doing make-up but I love it when someone else gives me a makeover, I find it very erotic. I also love modelling and taking pics, I currently have about a thousand on my computer, dating from my late teens to the present day. I'm very excited to be joining the Petticoat Wendyhouse community, it's a great site for people like us. Love stacy xxx

I hope that's ok and not too long, please feel free to edit it as you wish.

I'm currently not a member of the site but I've loved reading the free stories, readers' letters and looking at the lovely pics and art. To be able to access everything would be very exciting indeed.

Big Satiny Sissy Hugs

stacy xx

---
And now, tan - ta - raaaaa: the new girls I told you about who joined the Rose Room in November and December. Have you ever seen such a gorgeous bouquet of Roses?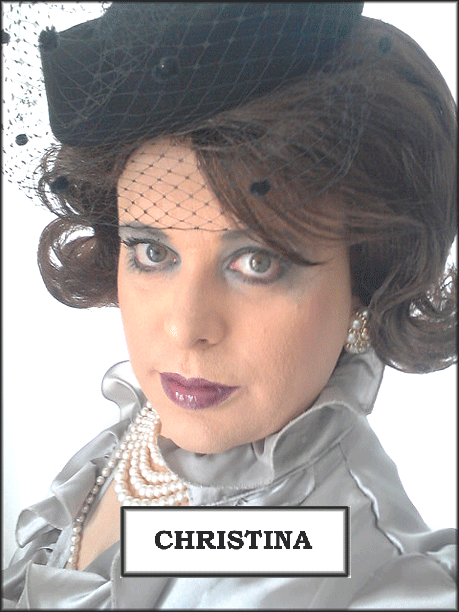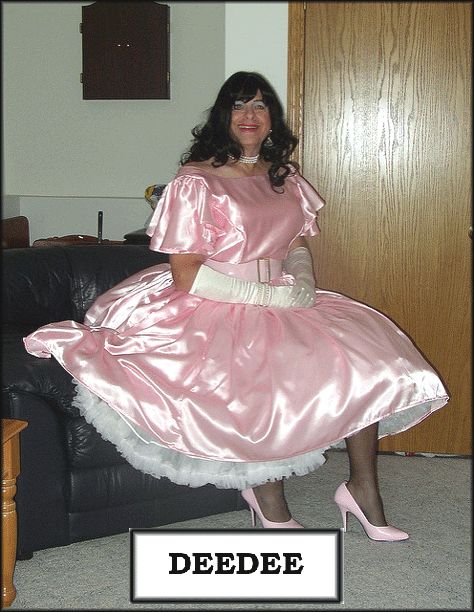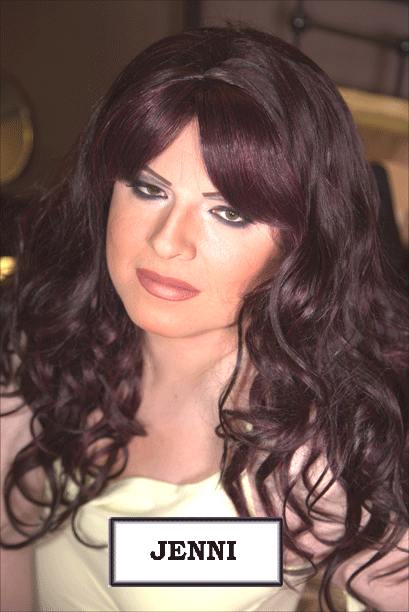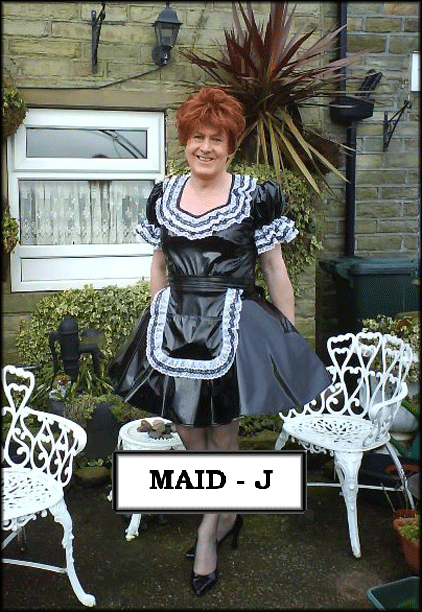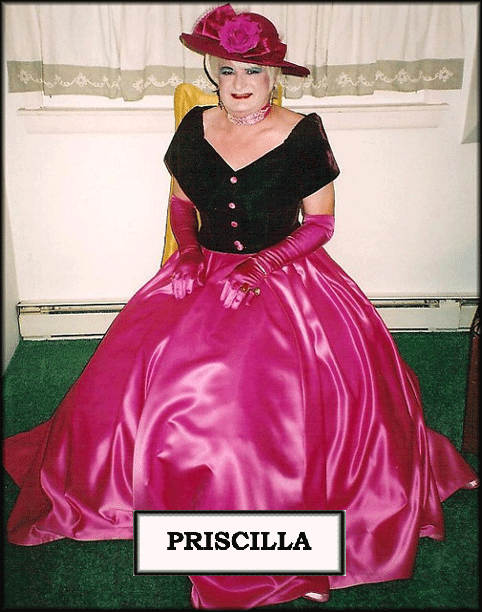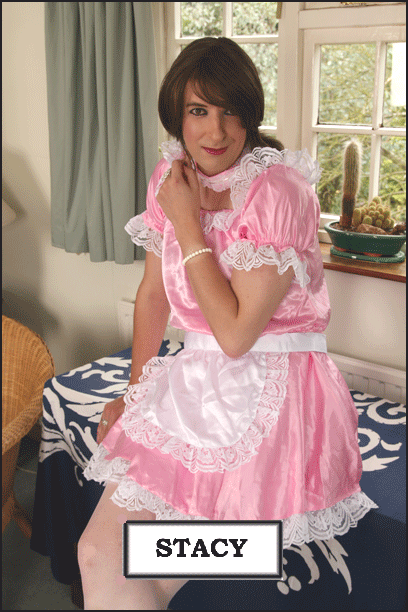 I'll tell you what, darling - those dresses, that make-up: gender girls these days are sooooo beautiful!


---

Letter 5 - Natacha explains how her sissy-baby Satin believes he is a Prim Sissy

My dear Susan,

Here as promised are the 12 Prim pictures I have put up on Satin's bedroom walls. Now and again I change one of them. Does this suit what you want for him: I can say that they have a strong formative influence on him. He looks at them a lot. He can see them all from his cot - I've enlarged them to A3 size. Even though they've lost a bit of quality, they make a deep impression on him.

Like I was telling you, and I think this is extremely promising, it's that a Prim existence has become his REALITY, and normal life is no more than an illusion for him. Over the past three months he has been balancing between the two. It didn't just happen; Elizabeth, Madame Tourneur and I have been linking everything he does to Prim. Every time I give him his bath, feed him, change him; every time Madame Tourneur gets him ready to go out; every time Elizabeth brings him a new girl's dress, we remind him: "You are a Prim Sissy". He believes it is him in all the stories I read to him (every night before his medicines). He says: "Is that Satin?" and I say: "Yes of course it's Satin". It makes me smile to see how completely he feels as if he is heart and soul in every sissy that Prim puts in his stories. Everything else is a dream for him: it is his Prim life which is his reality.

I believe we have achieved a complete remodelling of his imagination. He is very good (he always was), very cute, and very regressed too. And yet his shame goes even deeper now (we do all we can to remind him of his shame). His poppet, even though very small, is nearly always stiffened up. Even in his diapers. I am confident all this is the result of your program.

Kisses,

Natacha.

Here are four of the twelve Prim drawings that Natacha sent to Miss Blouse.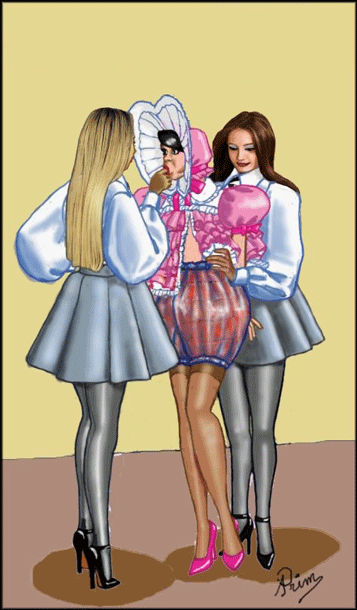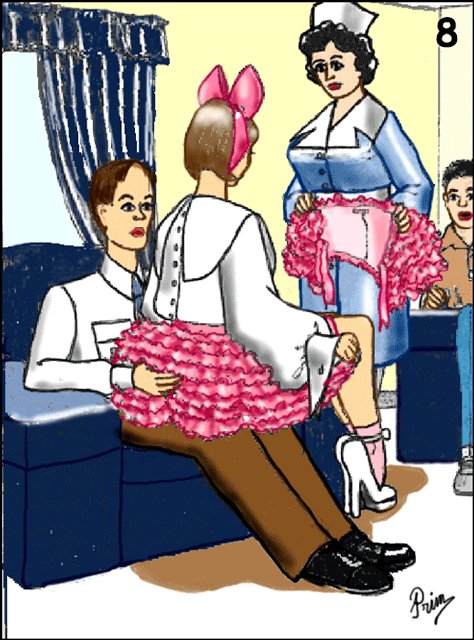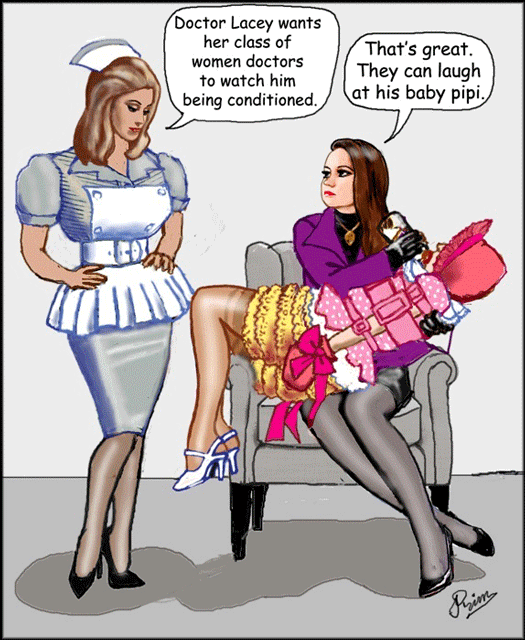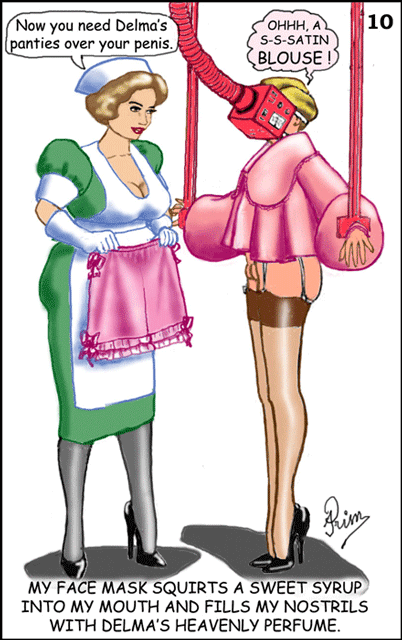 Dear Natacha,

When you tell me that Satin sees himself, and even believes he is in every Prim story, it doesn't surprise me, especially since Elizabeth, Madame Tourneur and you tell him he is every single day. This will be helped by his on-going medications. Yes, this condition in his mind will have come about thanks to the directions I've sent you for his development, reinforced by his daily intake of Prim stories and the influence of the Prim pictures that you show him daily.

But what will be most telling in making him weak, girly and feminine are the little girl satin dresses and panties you dress him in from one day to the next and the sissy-baby rompers and diapers you wrap him in endlessly, including through the night. It is the silks and satins that caress his skin in such a childish way, in little girl styles, which tell him ceaselessly that he is a sissy-girl.

So my advice is to talk to him, often, about his pretty clothes, telling him that this dress was picked out for Satin this morning to make him a Prim sissy-girl; this little skirt with its pretty blouse is his Governess's choice for him for today to remind him to be particularly sweet and girly in front of his lady visitors. Impress on him every day that what he is wearing is just what Miss Blouse wants him wearing for her, so that he can feel very feminine and babyish when you and his visitors look at him and smile to make him feel his shame.

Your care is doing him so much good, my dear. Thank you for your letter and the Prim drawings that enrich his bedroom.

Susan xxx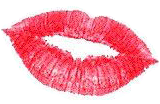 ---

I know you'll want to see more of Jill too, darling. She appeared first in my July Newsletter no.15, now in the Emma Room, then again in Prim's Petticoat Pansies #30 which you can see in the Molly Room. Doesn't she ooze with ease and confidence in these yummy photos?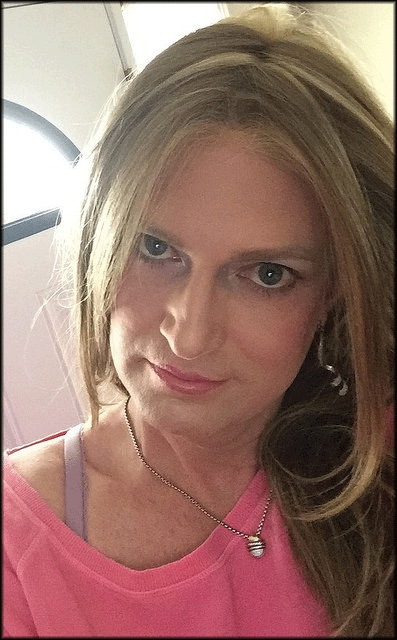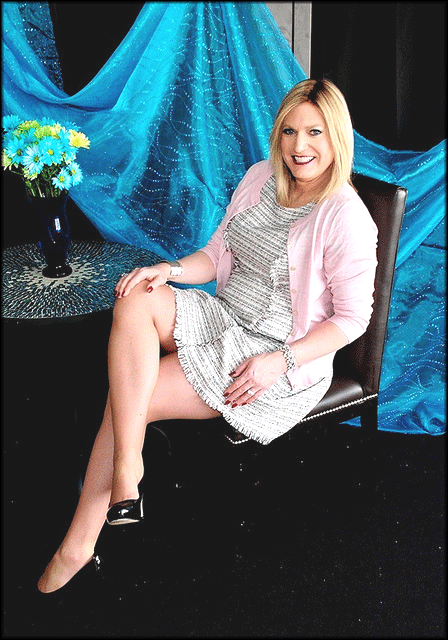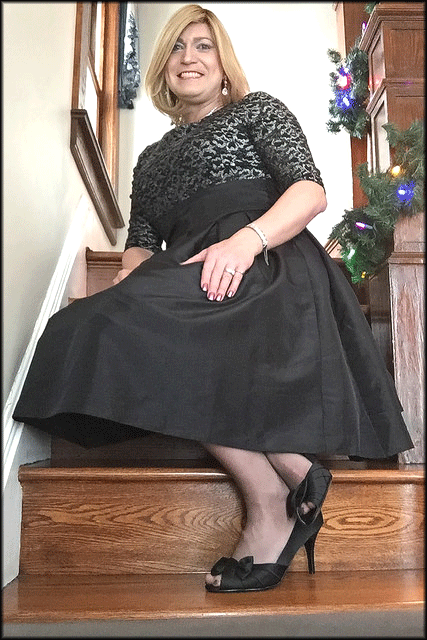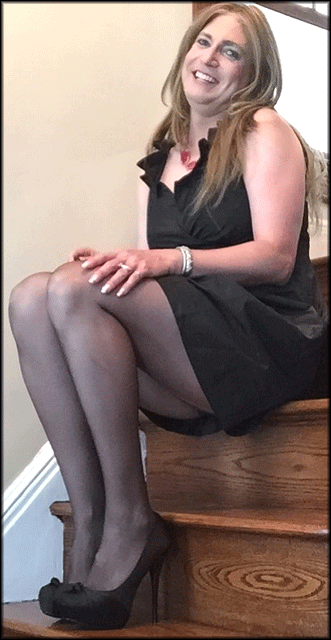 Love your shoes, Jill. Come to think of it, your legs too are simply divine.


---

Letter 6 - I am an impotent sissy

Dear Superior Auntie Frocks, dear sissy prim,

first of all I have to thank You for Your wonderful offer, and I don't just mean this wonderful free month but especially those beautiful captions about Dommy Mommy - since they indeed remind me of my own sissy youth and also of my actual life with my own strict Mommy.

As you should know my Mommy is a dedicated Domme. And even if She liked to play the sub for my as well dominant Daddy from time to time it was always She who in fact ruled our family. That is why my Parents also loved to play with subs from Their BDSM circle and why They began to raise me as a sub and a sissy as well!

When I finally left home I of course was so addicted to wearing ridiculous frillies and to be exposed while I, or someone else, would play with my satin covered clitty that I simply had to submit to every strict and elegant Lady I met. At first I used to pretend to be a 'normal' man, but then it didn't use to take long until They began to tease me with my impotent clitty and to make me Their cuckold.

That's why I later decided to tell my naughty truth right from the beginning, and even if this led to the same teasing and cuckolding it still gave me the feeling to be accepted as this utter sissy that I am. And when I met my now Wife and Mistress Rose my truthful attitude in fact led to the most bizarre and also delightful arrangement that might be conceivable:

my beloved Mistress responded almost too well to my deviant cravings and indeed clarified to my Mother that I still love to wear and to play within Her silky underwear, and for our Christmas Eve 2011 She even organized my personal "sissy homecoming" where my Parents actually welcomed me as Their submissive baby gurl again!

And not just this: Completely unknown from me my Mistress also invited Her Boss Ron to this Christmas party - and together with my Parents I had to learn that He in fact was Her new Lover and that He wouldn't just be my Master from now on but also Her official Superior!

I was completely dumbfound! my dominant Mistress Rose suddenly had become a sub to Her boss?! And I didn't even know that She would switch, not to mention to submit to any Man that openly! And it became even more confusing when Mistress Rose suggested varying my "Christmas coming out" into a spontaneous swinger party, just like She already had several threesomes with my swinger Parents and even a longer affair with my own Daddy!

So with Master Ron's encouragement She now began to suck and ride my Daddy's Cock while I had to fluff Master Ron who then took my Mommy! And while I of course had to stay locked within my pink baby rompers and diapers, covering a big and realistic dildo in my sissy cunt, I had to watch these two Men breeding both Women I so absolutely love and adore!

Oh Auntie Frocks, prim! This was for sure the most embarrassing and humiliating cuckold experience I ever had. And even if we of course had a lot of similar family encounters after this session it was this evening in 2011 that completely turned me into a candid sissy sub, and nothing else but a complete sissy sub! It was just as if I wouldn't ever have left my Family's home, and no matter how deviant and embarrassing it was it felt simply too natural to serve not just my Mistress Wife but actually two Mistresses and two Masters including my own Parents! Yes, from this evening on I was absolutely eager to fluff both my Superior Men and to clean Them after They used to come right into my wonderful Goddesses, and also I loved to guide Their rigid Cocks into my Goddesses' Pussies and to eat every fresh cream pie They liked to prepare for me!

Since then I spend a lot of time under my Mommy's and Daddy's wings again and wore my pink baby rompers whenever Master Ron liked to be alone with Mistress Rose. And soon after my Daddy's sudden death in 2014 Master Ron took my Mommy as well into His house where She now takes care of my sissy baby treatment as long as He doesn't want to be with Her reconfirming Her talents as His second sub! So now it is He, Master Ron, who has fully taken my Daddy's place not just for me but also for my Mommy and my Wife.

It is really the perfect arrangement for everybody since really everybody gets what He or She or it wants! And to me personally it means that I am expected to wear the most prissy and sissy clothes completely open and to play with other Dommes, or Doms, or female subs, or sissies whenever my Superiors like to get some entertainment. And what else could a sissy really wish for?

* Curtsey *

Yours,

sissy moan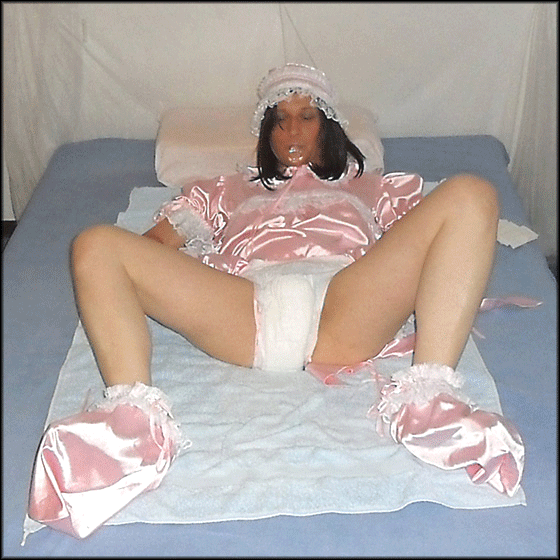 My dear Sissy Moan,

I can see that you are indeed an impotent sissy, and very, very submissive. Such sexual misery, to have your beloved wife discover that you are a pathetic sissy, then to have her own lover, and then to reveal your wretched position to your parents too.

And yet I suspect you like your condition in every detail. You are one of those lucky sissies whose dear ones fulfil your sexual fantasies, with the result that you are a submissive but happy bunny. Like you say, sweetie, what else could a sissy really wish for?

Thank you for sending me your lovely sissy-baby photo. What a lovely pink satin baby romper your Master and Mistress have got you dressed in. Maybe you can send me some more if Master Ron wants to humiliate you further by showing you to lots more sissies and Mistresses.

Let me give you a warm hug for being so impotent, darling.

Aunt Frocks x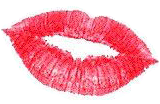 ---

Another lovely girl who wants to share her photos with us in the Wendyhouse is Marie-Christine. Here she is 'en grande toilette'.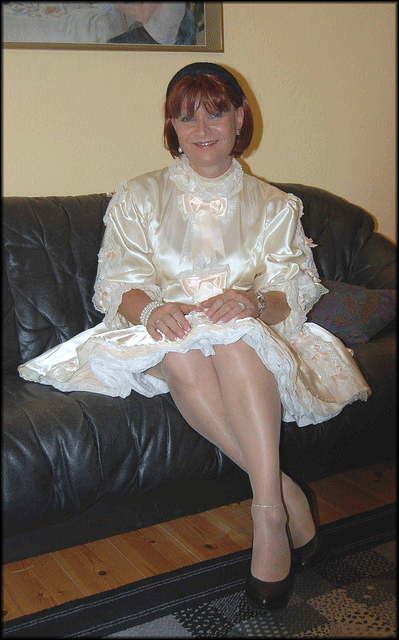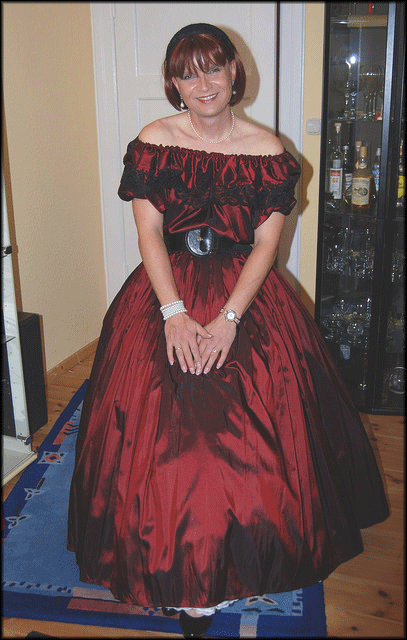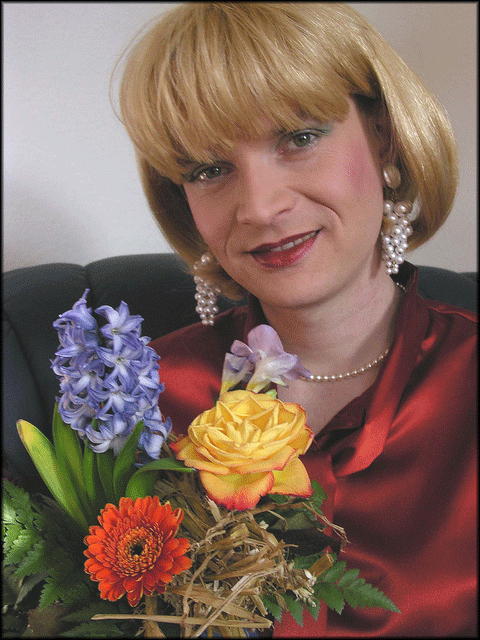 Perhaps you will agree with me, darling, that she is a picture of soft and sensuous femininity.


---

We also want to enjoy a nice story or two to finish with, don't we, hon? Here is a story by Prissy with one of his great pictures. It's taken from Prim's Petticoat Pansies #18 in the Jessica Room.



Miss Pride's Girly Lodgers by Prissy


Also from the same edition of Prim's Petticoat Pansies is this story by Prim:



Worshipping Mother-In-Law's Panties by Prim



Before I finish my Newsletter, sweetheart, I want to look forward to what is coming soon. It's been a long gap, I know, between the last Prim's Petticoat Pansies and the next, but that gap will close soon and you will be able to enjoy what Prim has been working on. Then, after Prim's Petticoat Pansies #32 will come Walt Wisconsin part 6, in which Michael Shoemaker follows in the footsteps of Walt in the Fem Ultima Clinic and sees any traces of his masculinity fast disappearing.

We will try our best to make things happen more regularly for you here in the Petticoat Wendyhouse as we move into 2018. Your pleasure is our pleasure, and we hope to make your life a more and more rewarding experience for you as you share girly feelings together: a sweeter website environment, sissy experiences that touch you more personally and with deeper emotions, and letters and photos from more wonderful girls who are happy to share their gender happiness with all of us.

Like Stephanie, for example, who has been looking a million dollars for some years now: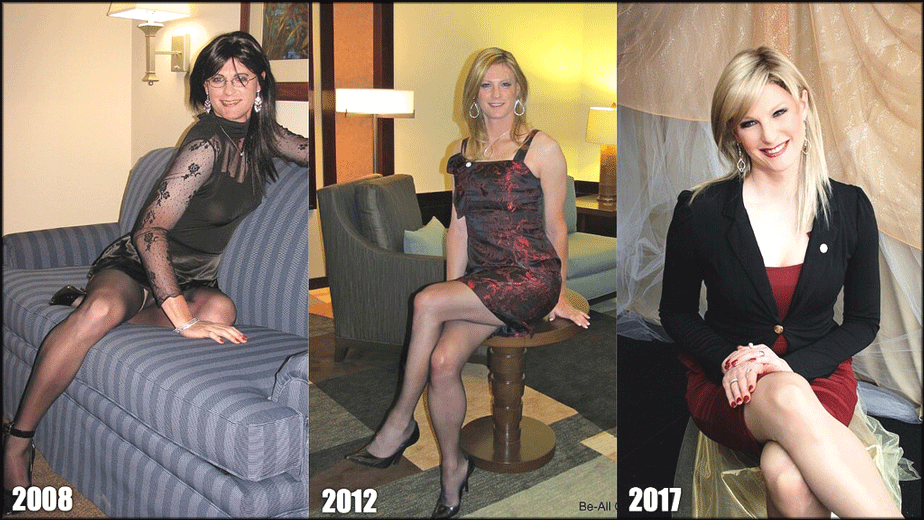 Lovely Steph. We thank you warmly for sharing.

I simply have to hug you and all our girls ever so tightly and wish you the warmest, happiest and most feminine Xmas you have ever enjoyed. My good wishes, and Primmy's, are for you and all your loved ones, and in the Wendyhouse you know you have lots of sisters who love you like family and send you all their girlish love.

I leave you with my love too, sweetheart.

Hugs and cuddles,

Your Aunt Frocks xxx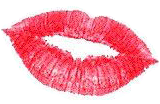 BACK