&nbsp Vincent Pearl stood on the doorstep, his heart hammering, his penis growing and his blushes warming his cheeks. In a moment, he would be in Phyllis's house again and under her full control. Suddenly she was there, in one of her blue silk bow blouses, the darker one, and she shook her head with that instant contempt she always showed him on his arrival. She drew a deep breath, as if making patient allowance for a naughty child, and stood back. "You had better come in, my boy. I see Cheryl allowed you to wear trousers and a jacket?" "Y-Yes, Mother-In-Law, but I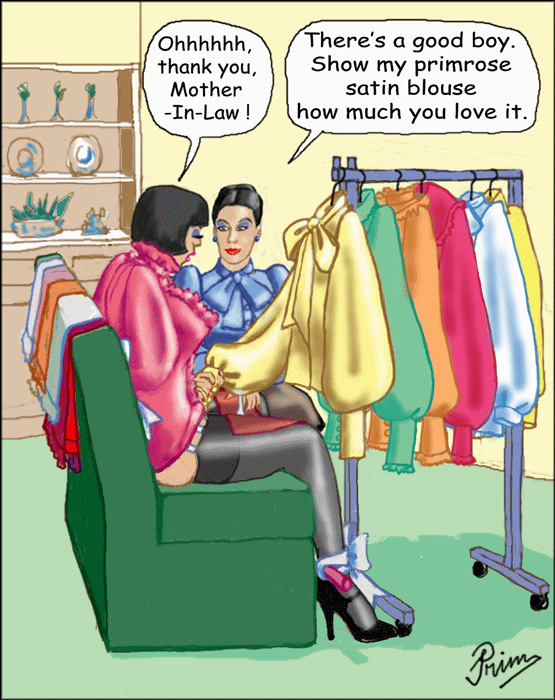 am wearing your brassiere and panties underneath."

"Hmm. Upstairs at once to be dressed."

His mother-in-law's bedroom excited him with its expensive perfumes, the lavishness of the musky satin drapes and one of her white corsets draped sideways over her dressing table mirror. She didn't believe in wasting time: he stood to have his jacket removed and his trousers undone. She chuckled on finding him in her ivory satin full cut panties, then her matching DD cup bra. She passed a suspender belt round him and clipped it shut at the back of his waist. "I see my daughter knows how to ensure you fill out my blouses, sissy boy." She made him sit to have his legs encased in her nylons. "As you know, my purpose is not just to dress you in my clothes, but to make you my clone. I see she had your hair done as well."

"Yes, Mother-In-Law - at Sweet Little Thing."

Phyllis laughed and clipped the welt of his stocking to its three suspender clips. "You're very aroused, my boy." She held the helmet shape of his penis in the pointed front of his satin panties. "Is it because I make a point of telling you how weak you are?"

Vincent had to concede how his penis stiffened a little whenever she did this. "Yes, Mother-In-Law."

"Or because you find me so attractive?" "Y-Yes, Mother-In-Law - that too." She fastened his feet into a pair of her shoes with a single strap across each instep. "Or is it because you know I am going to dress you in my things?"

"Ohhhhhh!" His penis gave a little thrust as she held it again.

"I thought so." She snorted again. "But it's not a laughing matter. You will thank me for making you so excited."

"Th-Thank you, Mother-In-Law, for making me blissfully happy and - making me so-o-ooo excited." She led him by the penis knob towards her closet and let go of him simply to open both doors wide. His gasp was music to her ears.

"Oh yes, you would love to wear them all, I know. Anything to make you more like me. But never forget this, my boy: when I have dressed you in my things, you become mine. My property, d'you understand? To do with as I please. Hmmm, I think I'll have you in pink this morning." He bleated again as she picked out her pink satin ruffle blouse and whisked it off its hanger. "Arms!" she ordered. He turned to be dressed in it, and soon he was buttoned down the front and at his wrists. "You won't need these," she said, pulling her panties off his penis and down to his feet. He stepped out of them, his penis rigid and at her mercy. She held it again to lead him where she wanted him. "The blousing room, boy. I'm going to play with my son-in-law's clitoris while he worships my blouses."

Vincent Pearl knew the blousing room only too well from previous visits. It contained blouses that lent a divine enchantment to his mother-in-law on events which she considered to be special occasions. She had discovered, over his many visits, which blouses made a helpless slave of the little wimp. She installed him on the blousing couch. Ohhh, it already had a dozen of her petticoat slips laid out, to follow his blouse worship. He put his wrists behind him to be ribboned together - how he loved that, since it meant he couldn't stop her from doing what she wanted with him - then she secured his ankles to the bar, spreading his legs wide.

"My, isn't my little boy helpless? His clitoris standing up in my presence. How polite. How eager, more like." She walked behind him, opened her closet and made her selection of blouses. Vincent melted with adoration

as he caught the heady perfume of her blouse closet. He looked down over his ruffled satin bust and his stockings. In a few moments, Phyllis would be using her blouses to play with her little captive. His heart almost stopped when he heard the wheels of her blouse rail squeaking back towards him where he waited for them. Then he saw her selection. Ohhh, her green silk blouse. Her cerise pink satin blouse. And ohhhhhhhhhhh! her white silk bow blouse as well! "Well?" she demanded, sitting side on to him so that she could look him in the eye as he worshipped her clothes, "haven't you got something to say to your Mother-In-Law?"

Her captive fought to stop his lip from trembling. "Th-Thank you for fastening me up for my blousing, Mother-In-Law." She acknowledged his thanks with a tilt of the head, but expected more. "Please Phyllis, will you - will you blouse my naughty clitoris?"

She accepted his request by lidding both her eyes, then spread his sheet of blouse-loving rubber across his lap and stood to select her first choice - her primrose satin bow blouse with satin buttons. It soon hung on the end of her rail, inches from his parted legs. "Now then, my blousey boy, what shall I do? Shall I wrap my little pansy-pops in my bow ribbons? Or shall I wrap it in my blouse buttons?"

Vincent couldn't prevent a moan of desire. Phyllis wheeled the rail twelve inches closer, so that his penis saluted the front of her blouse. Then she unbuttoned one of the long cuffs and opened it to invite his penis inside. "Oh thank you, Mother-In-Law," he couldn't help saying, and a smile played on her lips as she began to fasten the four satin covered buttons round his penis, starting at the sleeve. When she finished, she held the satin cuff closer round his shaft. It was absolutely rigid.

"I think my boy likes his Mother-In-Law's blouse sleeves, doesn't he?" she mused, sliding him very slowly up and down. He whimpered again, his legs stiffening in an effort to straighten, and he managed a very weak: "Y-Yes, Mother-In-Law." Her fingers softly shifted position from high to low, tighter to slacker, increasing her rhythm as the whim took her. "Show my blouse how much you love it, boy, and I hope you are absolutely in awe of its feminine power and loveliness - after all, I wore it last Wednesday to the church coffee morning."

Her other hand played with the inside of his thigh as his excitement rose, and when his resistance could last no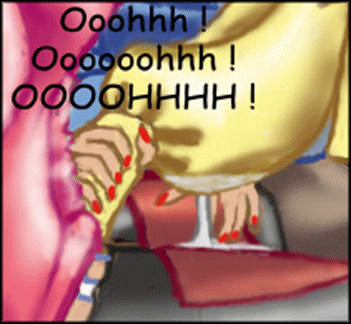 longer, he whimpered in surrender to his Mother-In-Law's primrose blouse, squirting his adulation into her sleeve in a humble admission that he wanted her to play with him in her blouses for the whole of his weekend stay.

"I'm sorry, my boy, but that will not be the case. After lunch, we must play with my silk and nylon slips, and this evening I want us to play with my taffeta dresses." She smiled at him as she slid her blouse sleeve from his juicing penis and dropped it into the linen basket. She chose her peach satin blouse next. "We may be able to play with more of my blouses tomorrow morning, when we'll have a nice rail of my satin-lined skirts to play with. Would you like that, my boy?"

Vincent almost fainted as he nodded. "Oh yes please, Mother-In-Law," and the front of the peach satin blouse closed around his penis as Phyllis prepared to show it all the nice blouse buttons up the front between ruffles of pretty satin edged with lace."


***
&nbsp